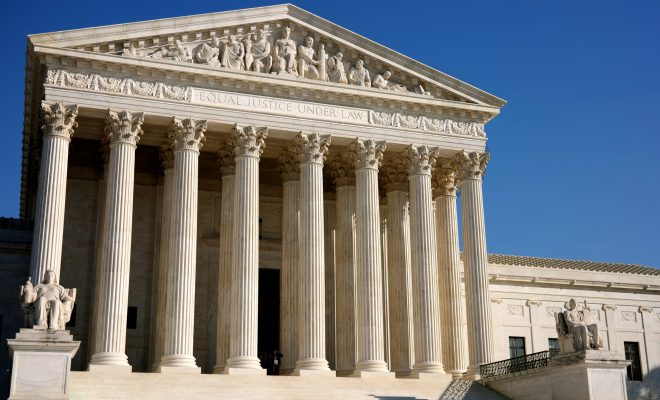 "The Supreme Court" courtesy of Davis Staedtler; license: (CC BY 2.0)
Law
SCOTUS Overturns Death Sentence for Black Man Whose Lawyer Called Racist Witness
By
|
The Supreme Court has overturned the death sentence for a man who has been on death row since 1997 because of the racist testimony of a witness called by his own lawyers. On Wednesday, the court decided 6-2 to give Duane Buck another chance. Buck was convicted of killing his ex-girlfriend and her male friend, and wounding his own stepsister, with a shotgun in Texas in 1995.
During the sentencing phase of the trial in 1997, Buck's own defense lawyers knowingly called an expert witness to the stand who claimed that Buck ran a higher risk of posing a danger in the future because he is black. "It's a sad commentary that minorities–Hispanics and black people–are over-represented in the criminal justice system," said former prison psychiatrist Dr. Walter Quijano.
ICYMI: Today #SCOTUS ruled in favor of a new sentencing hearing for our client, #DuaneBuck. Read our statement: https://t.co/xlU5mo1zPP pic.twitter.com/CxEOJPTgil

— Legal Defense Fund (@NAACP_LDF) February 22, 2017
The jury listened to Quijano and sentenced Buck to death. Then began Buck's long series of appeals. He appealed the original sentence, but didn't raise the issue of ineffective assistance of counsel. A state court affirmed his sentence. Then Buck's lawyer filed a petition for a writ of habeas corpus, but it didn't mention Quijano or his testimony. But then it was discovered that Quijano had given racist testimony in several other cases. Some of those convicted raised claims in federal court in 2000, and they were granted new sentencing hearings.
Duane Buck's trial lawyer, who put on testimony that his own client was dangerous for being black, still works in the 208th court every day.

— Franklin Bynum 🌹 (@bynumlaw) February 22, 2017
Buck's lawyer filed a second habeas petition, claiming ineffective assistance of counsel by the trial lawyers, but it was filed in state court and not in federal. Then-Texas Attorney General John Cornyn said that because Buck's own defense had called Quijano as a witness, there was no mistake made by the state and therefore nothing that needed to be fixed. The fact that Buck didn't mention Quijano in the first habeas corpus was the final nail in the coffin.
In the new petition, filed in October, Buck's defense cited "extraordinary circumstances" in order to pursue the ineffective assistance of counsel claims, even though that legally should have been done in the first place. This time SCOTUS listened. Chief Justice John Roberts wrote in the majority decision that the testimony in 1997 by Quijano claimed "that the color of Buck's skin made him more deserving of execution. No competent defense attorney would introduce such evidence about his own client."
Justices Clarence Thomas and Samuel Alito dissented, saying that the heinousness of Buck's crime and his lack of remorse justify the death penalty. But, Buck will now be able to have a new hearing on his sentence.