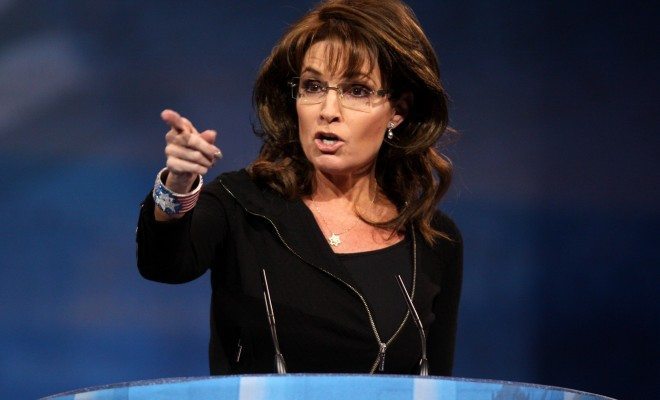 "Sarah Palin" courtesy of Gage Skidmore via Flickr; License CC 2.0
Law
Will Sarah Palin's Defamation Suit Against the New York Times Succeed?
By
|
It has been nearly 10 years since then-vice presidential candidate Sarah Palin could not name a single newspaper that she read to stay informed in an interview with Katie Couric. But it appears that she has learned to occasionally peruse national publications since then, as the former Alaska governor filed a defamation lawsuit Tuesday against the New York Times in response to an editorial that linked her to the 2011 shooting of Democratic Representative Gabby Giffords.
Palin's lawyers claim that the connection was published "knowingly, intentionally, willfully, wantonly and maliciously, with the intent to harm Mrs. Palin, or in blatant disregard of the substantial likelihood of causing her harm." They also added that by keeping the editorial up, the Times "violated the law and its own policies."
The editorial in question–titled "America's Lethal Politics"–drew a parallel between the June 14 shooting that injured Representative Steve Scalise (R-LA) and several others at a baseball field in Alexandria, and the 2011 shooting in Arizona. The piece said that both attacks were incited by political rhetoric which has become a "sickeningly familiar pattern."
"Before the shooting, Sarah Palin's political action committee circulated a map of targeted electoral districts that put Ms. Giffords and 19 other Democrats under stylized cross hairs," it read at one point. It also went on to draw connections between that advertisement and the shooter's motivation to attack Giffords, despite a Times article from earlier this year that rejected that notion. The Times' opinion section corrected these concerns the next day and later tweeted out an apology.
The $75,000 defamation suit claims the newspaper's correction and subsequent apology were "devoid of any reference to Mrs. Palin" and were "woefully insufficient."
Essentially Palin is arguing that the editorial published by the Times was libelous. Because the defamation in question was published as a written work, the suit would have to follow the legal standards of a libel case. Palin is a "public figure"–specifically an "all-purpose public figure"–meaning she is someone whose fame or position regularly puts them in the public eye. The courts decided in the 70s–ironically through a case that also involved the Times–that public figures have to prove "actual malice"–meaning the statements about the person were published with reckless disregard for whether they were false or true. In other words, Palin's lawyers need to show that the alleged false statements in the editorial were published intentionally, or with total disregard for the truth.
If it seems like this is a high standard that is tough to prove, it's because it is. Especially given this situation. Most statements made in editorials are defended as opinion. Even if the court does not consider the statements to be opinions, it might be even more difficult to prove her reputation was damaged. When Sarah Palin's contract with Fox News ended in 2015, FiveThirtyEight found that her favorability rating was at an all time low, even among Republicans. It is difficult to defame the character of someone who is already not viewed too highly, especially when the average Times reader is left-leaning. Some might even argue that this situation has made Palin more sympathetic. While it was expected that conservatives would cheer the lawsuit, even the Washington Post was quick to call out the Times for its mistake.
There is a chance, as there always is, that she could win this case. Palin's legal team includes one of the lawyers from the famous case in which Hulk Hogan sued Gawker into oblivion for publishing his sex tape. The Columbia Journalism Review referenced this case–among others–as "evidence that the growing unpopularity of media may translate into less-sympathetic jury pools."
Regardless of how this case turns out, the Times publishing a debunked talking point is far from a good look for the publication. At best, the editorial board lazily tried to remind readers that Sarah Palin did put out an ad with crosshairs of a gun sight over districts with Democrats that voted for the Affordable Care Act with the phrase "Don't Retreat, Instead – RELOAD!", and the next day vandals happened to smash in her office's windows. At worst, the board committed libel against a woman who promoted birtherism and claimed that former president Barack Obama spent $2 million to hide his real birth certificate.