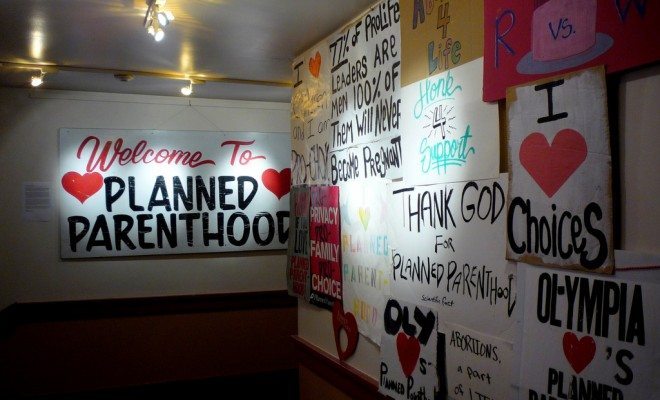 "Support Planned Parenthood Sign Art" courtesy of [Jason Taellious via Flickr]
Law
Planned Parenthood Sues Ohio Over Funding Cuts
By
|
Planned Parenthood filed a federal lawsuit on Wednesday against Ohio's Health Department because of a new law that will cut down funding for the health organization. The law is supposed to come into effect on May 23 and will affect the $1.3 million that Planned Parenthood gets from the state of Ohio–the state is tasked with handing out both federal and state funds to relevant programs and organizations. While this money is only a small portion of Planned Parenthood's budget, according to the lawsuit, several thousands of patients could miss out on cancer screenings, HIV tests, and more.
Governor John Kasich signed the bill back in February. In the lawsuit, the Ohio branches of Planned Parenthood claim that the law is mere punishment because they provide abortion services, an accusation that Kasich's office hasn't commented on yet. They also say that it is a violation of equal protection laws, since it doesn't treat Planned Parenthood in the same way as other healthcare institutions.
The lawsuit has spurred a variety of different reactions on Twitter:
Planned Parenthood wastes tax payer's money with another frivolous lawsuit in #Ohio ~ Proabort attorney… https://t.co/6IFQSTMNmn

— KeepLifeLegal (@KeepLifeLegal) May 11, 2016
Planned Parenthood sues over Ohio law that strips funding https://t.co/CWrqwrPL1o #10TV pic.twitter.com/rom4TV9jiB

— 10TV.com (@10TV) May 11, 2016
According to Reuters, Planned Parenthood has filed a total of 15 lawsuits in a little less than a year (since mid-2015). The influx of lawsuits started when a bunch of anti-abortion activists released fake video footage supposedly showing Planned Parenthood officials trying to sell fetal tissue. The video, that actually contained a photo of a stillborn baby and not an aborted fetus, was proved heavily edited and "thoroughly discredited."
Abortion is still a very sensitive and polarizing subject in the U.S. Forty-one states have some kind of restriction in place on when women are able to get an abortion, meaning only nine states have not specified any prohibition on timing at all. According to Planned Parenthood, three out of 10 American women have an abortion at some point in their life.