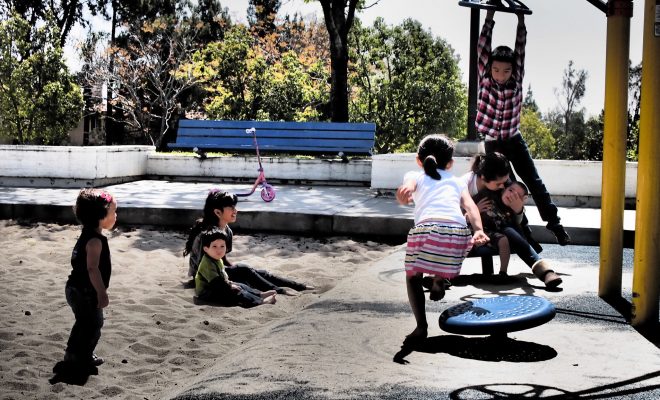 "Kids" courtesy of Ian D. Keating; license: (CC BY 2.0)
Law
Woman Seeking Parental Rights to Ex-Partner's Son Continues Legal Battle
By
|
Last September, New Yorker Kelly Gunn went to court to argue that she should be considered a legal parent and gain parental rights to the son her ex-partner adopted in 2011. Last week, she lost her case, but she is now planning to appeal. It's a complex story that was made possible after a different case led to a new, broader definition of "parent" in New York last fall.
Gunn was in a relationship with Circe Hamilton when they started planning an adoption. The couple split up before the adoption agency had identified Abush, the seven-year-old boy who later became Hamilton's son. But Gunn still felt like Abush was her son too. She argued in court that her participation in the adoption planning, as well as her support and care after Abush arrived, should qualify her as a legal parent.
On the other side of the argument, Hamilton said that their joint adoption plan ended when they broke up. She claimed that Gunn's role in her and her son's life after the breakup was more like that of a close friend or maybe a godmother.
In Gay Rights Case, Woman to Appeal for Parental Rights to Ex-Partner's Son https://t.co/k7lVw6Mn80 pic.twitter.com/4hdYdqxuWC

— Sara Buitrago (@x3aamphv) April 20, 2017
The case is possible thanks to a decision authored by recently deceased Judge Sheila Abdus-Salaam. In a ruling last August, the New York State Court of Appeals decided that a person who is not related by blood to, or the legal adoptive parent of, a child can still ask for custody rights. The ruling came after a case in which another unmarried gay couple, named as Brooke S.B. and Elizabeth A. C.C. in court documents, had a child together.
Elizabeth was impregnated through artificial insemination in 2008. After giving birth to a boy, the three of them lived together as a family until 2010, when the women's relationship ended. Three years after that, Elizabeth tried to sever Brooke's ties with their son and didn't let them have any contact. When Brooke sued for visitation rights, a lower court turned her down, as the law didn't accept a non-adoptive caretaker with no biological ties to the child as a parent.
But the appeals court overturned the ruling on August 30. Judge Abdus-Salaam wrote that the legal definition of a parent was outdated and didn't fit how many of us view "family" today. They considered the law especially unsustainable since New York started allowing same-sex marriage in 2011. The ruling stated:
Where a partner shows by clear and convincing evidence that the parties agreed to conceive a child and to raise the child together, the nonbiological, nonadoptive partner has standing to seek visitation and custody.
But the Gunn and Hamilton case is more complicated. The couple never married, and they did not conceive the child together. By the time they split up, they had only planned to adopt a child, but knew no other details. Gunn decided to seek custody because Hamilton was planning on moving to her home country of Great Britain with Abush.
One of Hamilton's lawyers raised the issue that New York State's new, expanded definition of parental rights could also be very scary for parents. It could open up arguments for trusted people close to the family to claim parental rights. But it doesn't allow someone to gain those parental rights too easily–according to the judge in this case, Frank P. Nervo, Gunn didn't provide sufficient evidence that she had played the role of a parent, and that was why she lost the case.