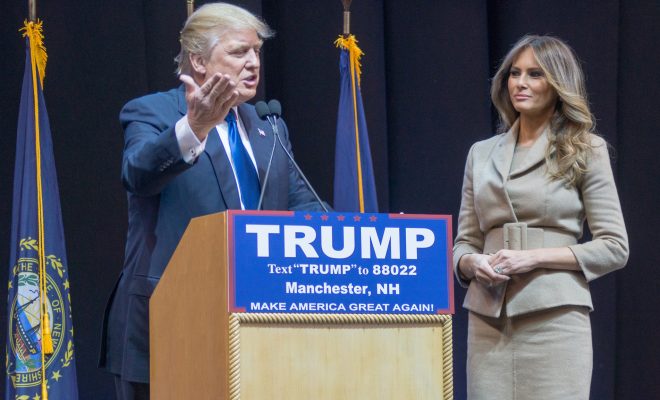 "Donald Trump & Melania Trump" Courtesy of Marc Nozell License: (CC BY 2.0)
Law
Melania Trump Settles With One Defendant in Defamation Battle
By
|
Shortly after refiling a $150 million defamation lawsuit involving claims that she worked for an escort service, Melania Trump has reached a settlement with one of the defendants named in her original defamation suit.
According to Trump's lawyers, Maryland-based blogger Webster Tarpley–who published the escort claims on his website Tarpley.net–has "agreed to pay her a substantial sum as a settlement." However, the specific amount of money remains unknown.
Tarpley wrote an article including the escort rumor in August, but had retracted it before Trump sued him in September. The article also included claims that she suffered from a nervous breakdown
Additionally, Trump's suit named Mail Media, the company that owns the British newspaper Daily Mail, which printed similar rumors. Though a Montgomery County Circuit Court  judge dismissed the Daily Mail case on February 2, because the case does not fall under that court's jurisdiction, Trump was allowed to move forward with the Tarpley suit.
On February 6, she re-filed the suit against the Daily Mail in New York, where Mail Media has corporate offices. In the suit, Trump claims that the article hurt her potential business interests, including the opportunity to "launch a broad-based commercial brand" that would sell clothes, accessories, and cosmetics.
Trump's actions have attracted criticism for ethical reasons. Richard Painter, a former White House ethics lawyer under George W. Bush, told the Washington Post: "There has never been a first lady of the United States who insinuated that she intended to make a lot of money because of the 'once-in-a-lifetime' opportunity of being first lady."
Painter is among a group of lawyers currently suing President Donald Trump for allowing his businesses to receive money from foreign governments, which they say violates the Constitution and poses a conflict of interest.
The First Lady and her husband have a history of threatening media outlets with legal action. In October, Donald Trump vowed to sue the New York Times for libel when they published an article about two women alleging he had groped them. On the campaign trail, he pledged to loosen libel laws to make suing media outlets easier.
After a writer for People published an article about being sexually harassed by Donald Trump, Melania Trump tweeted at the magazine that she would "consider her legal options" over details from the story that she claimed were false.
! @people #NatashaStoynoff pic.twitter.com/zXNm6boveP

— MELANIA TRUMP (@MELANIATRUMP) October 13, 2016
Representing Trump in her libel cases is Charles Harder, the same attorney who helped wrestler Hulk Hogan win $140 million in his defamation case against Gawker Media, an outcome that resulted in Gawker declaring bankruptcy and shutting down.
Lawsuits like Hogan's and now Trump's spark fears about allowing wealthy individuals to cripple media organizations with costly legal proceedings, a precedent that could endanger the Freedom of the Press.
But the Trumps don't always go to court with the intention of winning. In July, a USA Today report found that Donald Trump didn't proceed with most of the defamation lawsuits he filed.
Evan Mascagni, a policy director at the Public Participation Project, told the outlet:
Donald Trump has repeatedly attempted to silence his critics over the years through frivolous lawsuits. If you really examine some of these cases, it becomes pretty obvious that Trump didn't file these suits to seek justice. Rather, he filed them to intimidate, harass and silence his critics.