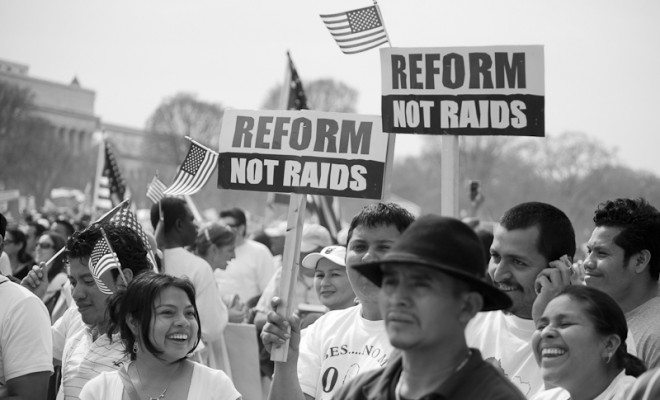 Courtesy of Anuska Sampedro; License CC BY-NC-ND 2.0
Law
Massachusetts Court Rules State Police Can't Honor ICE Detainers
By
|
The Massachusetts Supreme Court ruled on Monday that state law enforcement cannot hold undocumented immigrants just to buy time for federal authorities to take them into custody.
The ruling–seen as a victory for immigration advocates–is believed to be the first court decision in the country to forbid local authorities from enforcing federal immigration laws. The court ruled that such enforcement would result in a second detainment that state law does not authorize.
"Massachusetts law provides no authority for Massachusetts court officers to arrest and hold an individual solely on the basis of a federal civil immigration detainer, beyond the time that the individual would otherwise be entitled to be released from state custody," the court wrote in its decision.
A "federal civil immigration detainer" is a written request from the Immigration and Customs Enforcement agency (ICE) to a local jail or law enforcement agency to hold an arrested undocumented immigrant for up to 48 hours, until federal agents can retrieve the detainee. Police departments and court officers are usually given guidance by state officials on how to respond to these requests. Some end up complying. In Massachusetts, for example, state police have held 27 people on detainers as of June 2016.
Other departments, on the other hand, will ignore these requests and release undocumented immigrants before ICE can detain them. Some localities–commonly known as "sanctuary cities"–have faced scrutiny from the Trump Administration, which has threatened to block federal funding. Attorney General Jeff Sessions has claimed sanctuary cities make the country less safe. But now sanctuary cities have a legal basis for their refusal to cooperate with federal immigration officials, as a result of this ruling.
The Massachusetts case revolved around Sreynuon Lunn, an immigrant from Cambodia. Boston Police arrested Lunn last year on larceny charges, and detained him until his trial. The case was dismissed in February after prosecutors were unable to get the alleged victim to come to court.
Lunn should have been freed, but was held for hours after his case was dismissed because of an ICE detainer issued against him. He was taken into custody by immigration authorities, but has since been released without being deported. Though Monday's decision does not directly affect Lunn, the case persisted because prosecutors and the court knew it would set guidelines for similar situations in the future.
"This court decision sets an important precedent that we are a country that upholds the Constitution and the rule of law," said Carol Rose, executive director of the American Civil Liberties Union of Massachusetts. "At a time when the Trump Administration is pushing aggressive and discriminatory enforcement policies, Massachusetts is leading nationwide efforts by limiting how state and local law enforcement assist with federal immigration enforcement."
Naturally, ICE was quick to speak out against the court's decision. "While ICE is currently reviewing this decision to determine next steps, this ruling weakens local law enforcement agencies' ability to protect their communities," C.M. Cronen, the field office director for ICE in Boston, said in a statement.
Massachusetts is not the first state court system to rule on ICE detainers. Both California and Connecticut have statewide laws that limit who can be held at ICE's request. Those laws also state that detainer requests are not binding for state and local officials. Boston and Cambridge each have similar citywide laws as well.
However, the state legislature could still undo this ruling if they choose to pass a law allowing Massachusetts state police to honor ICE detainers. Sheriff Thomas Hodgson of Bristol County–an outspoken critic of undocumented immigrants–is currently working on legislation with three Republican state lawmakers.
"It will make the Commonwealth safer if we can get this bill passed by the legislature, which authorizes court officers and law enforcement officers to honor ICE detainers," Sheriff Hodgson said.
As comments on immigration policy begin to focus on safety, it should be worth noting the Cato Institute found in 2015 that immigrants as a whole–both legal and undocumented–commit less crimes than native-born Americans. Additionally, a University of California analysis of federal data found that sanctuary cities are often safer than non-sanctuary cities.