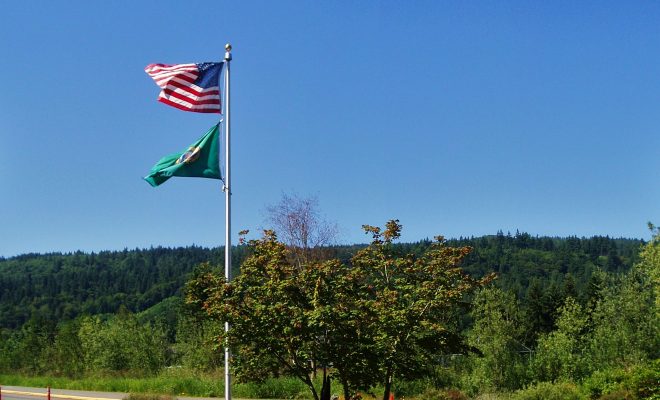 "US and WA Flags at Lk Sammamish State Park" courtesy of KurtClark : License (CC BY 2.0)
Law
Korean-American Man Who Was Adopted When He Was Three to Be Deported
By
|
The story of Adam Crapser, 41, who was born in South Korea but adopted by an American couple at age three, has brought a lot of attention to the issue of international adoptees who lack American citizenship. Adam Crapser's adoptive parents never filled out the necessary paperwork and now he faces deportation to a country he hasn't seen since he was three, where he has no family or friends, and knows neither the language nor the culture. According to a Korean-American advocacy group, about 35,000 adoptees in the country lack U.S. citizenship, many times because the parents don't know they need to fill out certain paperwork.
They grew up as American citizens, then learned that they weren't @PriscillaStoneS @adam_crapser @NYAdoptEquality https://t.co/o8A9E1u7Fb

— Frank Ligtvoet (@frank_ligtvoet) September 3, 2016
Adam Crapser, who until recently lived in Vancouver, Washington, with his two daughters and pregnant wife, was adopted with his sister and taken to the U.S. His only belongings when he arrived were a Korean bible, a pair of rubber shoes, and a stuffed dog. But seven years later the parents, who had been abusive the whole time and punished the siblings by locking them in a dark basement, changed their minds and abandoned the kids. At age ten, Adam Crapser was separated from his sister and passed through several different foster homes.
By the time he was 12, Thomas and Dolly Crapser adopted him, but that didn't make life easier. The couple also had two other adopted kids and several foster children, and all of them were abused. The parents allegedly taped the children's mouths shut with duct tape, slammed their heads into door frames, and hit them. According to the AP, the couple was arrested on charges of physical and sexual abuse and rape in 1991, but Thomas only got 90 days in jail and Dolly three years of probation.
.@repzoelofgren what can be done to help #adamcrapser? https://t.co/3w4Hcx4MLr Appalling abuse by ICE after a lifetime of abuse.

— Peter Delevett (@peterdelevett) October 27, 2016
Before the Crapsers were criminally charged, they had kicked Adam Crapser out of their home before he had any chance to collect his belongings. In an attempt to retrieve his Korean bible and rubber shoes from when he was little, he broke into their house, which led to charges of burglary. Later in life he got in trouble with the law for unlawful possession of a firearm, assault after a fight with his roommate, and for calling a son he had with an ex-girlfriend despite a protection order.
"I made a lot of mistakes in my life, and I'm not proud of it," Adam Crapser told the New York Times magazine. "I've learned a lot of lessons the hard way."
As a sister and mother of international adoptees, this story breaks my heart and infuriates me in all kinds of ways. https://t.co/GgVYKIzr4D

— Jeanne Ryan (@Jeanne_Ryan) October 28, 2016
In 2000, Congress passed a law that gives automatic citizenship to adoptees, but only future adoptees or children under 18. Adam Crapser wasn't covered but had to apply by himself. At the beginning of the year he came onto the immigration authorities' radar when he applied for a green card and his previous convictions showed up. Another law, that was made stricter after 9/11, made him deportable because of his previous crimes. Even though he is now a responsible father of three, soon to be four, he was taken away from his family and put in an immigration detention center for nine months. During a hearing on Monday, he waived an appeal since he desperately wants to get out of there and be with his family.
"He will be deported as soon as Immigration and Customs Enforcement makes the necessary arrangements," his attorney Lori Walls said to the AP. "Adam, his family, and advocates are heartbroken at the outcome."
That someone who was taken from his home country at such a young age will now be sent off to a place completely alien to him and forced to split up from his wife and children, simply because of neglectful adoptive parents, has caused an uproar on social media. Many are pleading for the White House to step in.