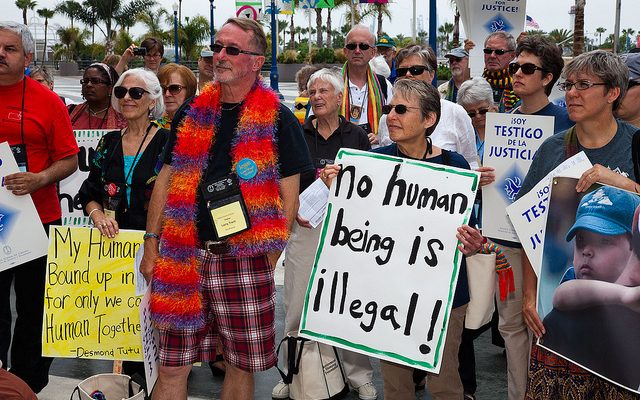 "Image" Courtesy of unitedchurchofchrist License: (CC BY-SA 2.0)
Law
Trump-Backed Immigration Bills Face Uphill Battle in the Senate
By
|
A pair of Senate immigration bills could imprison undocumented immigrants convicted of felony reentry and cause sanctuary cities and states to stop receiving certain federal grants.
Kate's Law would increase penalties against immigrants who have been convicted of felony reentry–or reentering the country after being deported. The No Sanctuary for Criminals Act would amend the Immigration and Nationality Act to prohibit cities and states that don't cooperate with immigration authorities from receiving grants from the Justice Department and Homeland Security.
Both bills, which were sponsored by Representative Bob Goodlatte (R-VA), were passed by the House of Representatives along mostly party lines on June 29. They now move on to the Senate, where Republicans face a steeper challenge from Democrats in passing either bill. Senate Republicans would need to vote unanimously and persuade at least eight Democrats and Independents to vote in favor of the bills in order to clinch a filibuster-proof majority. A 2016 version of Kate's Law and the Stop Dangerous Sanctuary Cities Act, a 2016 bill similar to the No Sanctuary for Criminals Act, both previously failed to pass the Senate.
Kate's Law is named after Kate Steinle, a 32-year-old woman who was shot and killed in San Francisco in 2015. Juan Francisco Lopez-Sanchez, an undocumented immigrant from Mexico, was charged with Steinle's murder. Before his arrest, Lopez-Sanchez had been convicted of seven felonies and had been deported five times. Lopez-Sanchez's original December 2016 trial date was postponed. He is scheduled to appear in court on July 14, when another trial date could be set.
White House Support
The White House released a statement from President Donald Trump on June 29 regarding the two immigration bills.
"The implementation of these policies will make our communities safer," Trump said in the statement. "Opposing these bills, and allowing dangerous criminals back into our communities, our schools, and the neighborhoods where our children play, puts all of us at risk."
Trump also urged the Senate to pass the bills in a video address over the weekend, saying, "If the government had simply enforced our immigration laws, these Americans would still be alive today."
Weekly Address🇺🇸 #KatesLaw#NoSanctuaryForCriminalsAct
Statement: https://t.co/I8cqKGDK2B pic.twitter.com/00mao6Vk7R

— Donald J. Trump (@realDonaldTrump) July 1, 2017
Growing Opposition
Immigrant rights advocates are opposed to the bills, and over 400 organizations have signed a letter urging the Senate to vote against both pieces of legislation.
Jose Magaña-Salgado, Managing Policy Attorney at the Immigration Legal Resource Center, said in a statement that the bills would not only tear apart families and undermine the rights of immigrants in the U.S., but they would also put an even heavier burden on the federal prison system.
"Legislation that erodes public safety, disrespects local democratic processes, and raises serious constitutional concerns represents an abdication of the Congress' responsibility to enact fair, humane, and just immigration policy," Magaña-Salgado said.
Instead, he proposes that Congress enact legislation that provides " a roadmap to citizenship for the nation's eleven million aspiring Americans and eliminates mass detention and deportation programs that undermine fundamental human rights."
GOP lawmakers believe both bills will crack down on crimes committed by undocumented immigrants, but the bills' impact on immigrant communities is not quite so cut-and-dry. Under Kate's Law, undocumented immigrants previously convicted of a crime who attempt to re-enter the United States after being deported could face fines and between 10 to 25 years in prison depending on the severity of their original conviction.
However, the bill also includes sentencing guidelines for undocumented immigrants who have not been previously convicted of a crime. Undocumented immigrants who reenter the U.S. after being removed could face up to two years in prison; those who reenter after being repeatedly removed three or more times could face up to 10 years in prison. Additionally, the bill limits "collateral attack on underlying removal order." In other words, undocumented immigrants would not be allowed to challenge the validity of any prior order under which they were removed from the country.
Trump's Immigration Agenda
During his first week in office, Trump issued an executive order on border security and immigration enforcement, signaling a stricter stance than his predecessor on illegal immigration. In the first 100 days of Trump's presidency, the U.S. Immigration and Customs Enforcement arrested 41,318 immigrants, a 37.6 percent increase from the same period last year, according to a statement from ICE.
The No Sanctuary for Criminals Act is part of a months-long endeavor by the Trump administration to restrict federal funding to sanctuary cities and states. Trump issued an executive order to withhold federal grants from jurisdictions that refused to comply with federal immigration enforcement authorities, but that order has been tied up in a legal challenge over its constitutionality since April.
The ACLU issued a warning that both immigration bills were intended to "empower Trump's depotation force and anti-immigrant agenda," and urged the Senate in a statement to "reject these bills, to defend the Constitution, and protect the rights of all people, no matter their background."
"These bills are riddled with constitutional violations that completely disregard the civil and human rights of immigrants," Lorella Praeli, the group's director of immigration policy and campaigns, said in the statement.