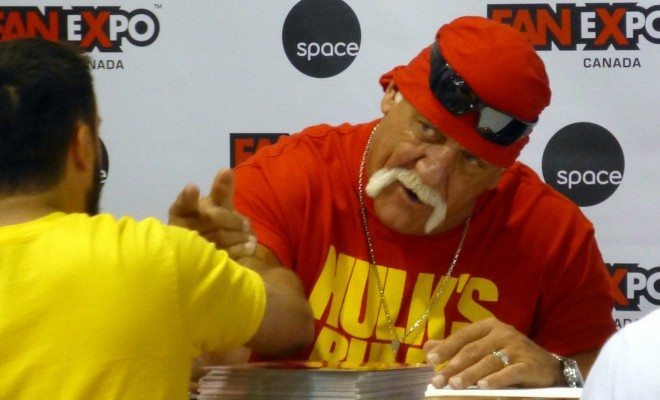 "Hulk Hogan 02" courtesy of [GabboT via Flickr]
Law
Hulk Hogan Wins Gawker Lawsuit: How Will this Affect Freedom of the Press?
By
|
The crazy case between Hulk Hogan and Gawker has finally reached a decision–and Hogan has emerged victorious. A jury awarded the famous professional wrestler $115 million after a two week trial, but just six hours of deliberations.
Hulk Hogan sued Gawker after the media company released a sex tape of Hogan and the wife of a former friend of his. Hogan claimed that Gawker violated his privacy by releasing the tape, and that they didn't reach out to him, or the woman in the tape, Heather Cole, before releasing it publicly on the site in an article entitled: "Even for a Minute, Watching Hulk Hogan Have Sex in a Canopy Bed Is Not Safe for Work but Watch It Anyway." To read the full details of the case, check out our previous coverage here.
Really, the argument on the part of Hogan's lawyer came down to privacy, and whether or not the video that Gawker published was actually "newsworthy." But Gawker's lawyers argued that this came down to First Amendment rights. Gawker's attorney, Michael Sullivan, stated his concern that this case would open up a dangerous door for public figures to sue media companies. According to CNN:
Sullivan warned that Hogan's lawsuit could have a chilling effect on free press if 'powerful celebrities, politicians and public figures would use our courts to punish people.' 'We will all be worse off as a result,' he said.
Before the ruling came out this evening, Eric Goldman, co-director of Santa Clara University's High Tech Law Institute spoke to Fusion about the case and stated:
Right now, there's an 'anything goes' mentality when it comes to publishing information about celebrities. If Gawker loses, we might begin to see some rethinking of that mentality. If Gawker wins, I think it will further embolden online publishers that anything related to celebrities is fair game.
Given that the six jurors sided with Hogan, and Gawker did lose, that first consideration may be true. However, it seems like Gawker's lawyers are going to appeal the case–as Gawker founder Nick Denton read from a written statement:
Given key evidence and the most important witness were both improperly withheld from this jury, we all knew the appeals court will need to resolve the case. … That's why we feel very positive about the appeal that we have already begun preparing, as we expect to win this case ultimately.
Given the high price tag and high profile nature of this case, the appeal will be one to watch.