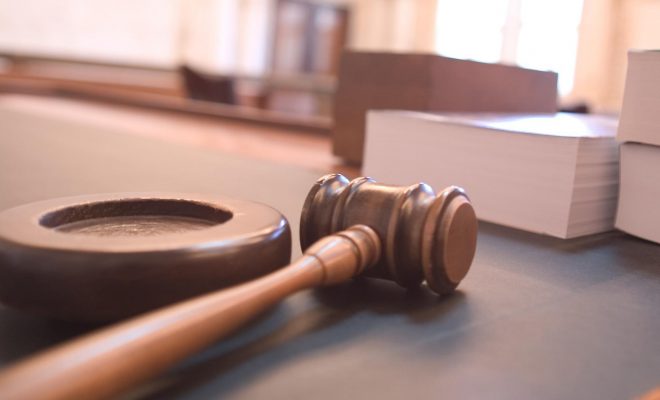 "Courtroom One Gavel" courtesy of Beth Cortez-Neavel; license: (CC0 1.0)
Law
Dylann Roof Will Represent Himself in Church Shooting Trial
By
|
On Monday morning, Dylann Roof, who is accused of shooting nine people at a church in Charleston in 2015, will be representing himself in court. Federal judge Richard Gergel called his request "unwise" but said that he would reluctantly accept it, since he has a Constitutional right to represent himself. "I do find [the] defendant has the personal capacity to self-representation. I continue to believe it is strategically unwise, but it is a decision you have the right to make," Gergel said.
Judge Gergel and Roof's lawyers advised him against dismissing them, but to no use. Jury selection in the case was also delayed in the beginning of the month after Roof's lawyers had questioned his ability to understand the case against him, but it resumed on Monday as well. His former defense team will still be present during the trial and can assist Roof, if he wants help. Reporters present in the courtroom described attorney David Bruck as "frustrated."
David Bruck now whispering emphatically to Roof. Can't hear him, but looks frustrated. Bruck turns away and shakes his head. Roof smirking.

— Mike Hayes (@michaelhayes) November 28, 2016
In total, 516 jurors were scheduled to appear in court to be personally questioned by the judge to see if they qualify. After 70 are picked from that group, the lawyers can choose to strike the ones they don't want until they have 12 jurors and 6 substitutes.
Juror has been qualified. 5 of 70 #DylannRoof

— Sam Tyson (@SamInteractive) November 28, 2016
Roof is accused of killing nine parishioners at the historic black church Emanuel African Methodist Episcopal Church in Charleston in June 2015. He is facing 33 charges, including hate crime charges, murder, and obstruction of religion. He'll represent himself, so he could end up questioning the victims' family members if they are called to testify, creating a pretty unusual situation that spurred some reactions on social media.
#DylannRoof is setting himself up to be a martyr. For him to be able to question his victims families. Sickening!

— Makeda Nzingha Hill (@makedanzingha) November 28, 2016
Over the weekend, Judge Gergel held a hearing to determine whether Roof was mentally fit to be on trial, which included testimony from a psychologist. Because of that, the hearing was closed to both media and the public to prevent jurors from being affected by any statements or information. This caused some complaints from relatives of the victims, but according to the judge, this is one of the steps taken to make sure that the trial will be fair. According to attorney Chris Adams there are three reasons why defendants might want to defend themselves. He said:
They don't have faith in their legal team, they want to die, and or they want to conceal their mental illness. In this case, Mr. Roof had a great defense team, so I don't think there would be any sane reason to not trust them.
Adams believes that Roof wants to hide his mental issues and doesn't wish to persue a non-death sentence. As his defense team includes Bruck, who is a renowned death penalty lawyer who has argued that the death penalty is excessive, and given that the team claimed that Roof might not be mentally fit for trial, it certainly seems like Roof has no interest in securing himself a lenient sentence.