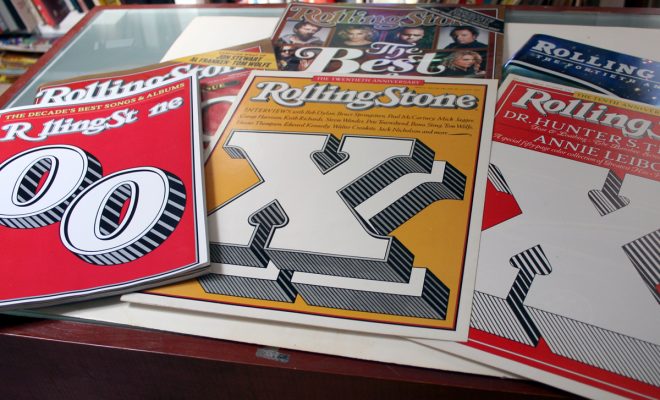 Image Courtesy of FontShop; License: (CC BY 2.0)
Law
The Rolling Stone Defamation Case is in the Jury's Hands Now
By
|
Attorneys for Rolling Stone magazine and a former administrator at the University of Virginia completed their closing arguments on Tuesday, in a defamation case brought against the magazine for an article it published two years ago about now-debunked rape accusations. Seven jurors will begin deliberating the case on Wednesday in Charlottesville, Virginia.
Nicole Eramo, the former associate dean of students at UVA, also in Charlottesville, is suing the magazine for $7.5 million for its November 2014 story, "A Rape on Campus." Eramo says the writer, Sabrina Rubin Erdely, unfairly portrayed her as a villain, and as an administrator protecting her institution rather than her students. The story centers around "Jackie," a student who alleged she was gang raped and beaten at a fraternity party in 2012.
Tom Clare, Eramo's attorney, argued that Erdely set out to tell a story of "institutional indifference," and had a preconceived agenda that directed her reporting. He said she ignored key sources and facts that ran counter to her narrative, asserting "once they decided what the article was going to be about, it didn't matter what the facts were."
After the Rolling Stone piece thrust the case, and campus sexual assault more broadly, into the national conversation, a police investigation largely debunked the story "Jackie," told Erdely. Rolling Stone issued an apology in December 2014, and the story was retracted in April 2015. To prove her case, however, Eramo must show the magazine intentionally acted with "actual malice." 
Rolling Stone defamation trial nears end as lawyers say facts of UVA case ignored https://t.co/3nkzmG6woo

— The Guardian (@guardian) November 2, 2016
On the other side of the aisle, Rolling Stone's lawyer, Scott Sexton, said there is no evidence that the magazine was aware of the story's falsehoods before publication. "Everyone who encountered this young woman believed her," he said. "Yet we are the ones, in a sense, being tried for having believed her."
The Columbia University Graduate School of Journalism was commissioned by Rolling Stone after the story's retraction in 2015 to study how the article was reported and where it failed. The commission called Erdely's piece "a story of journalistic failure that was avoidable," encompassing "reporting, editing, editorial supervision and fact-checking," especially concerning the writer's reliance on a single source ("Jackie"), and her failure to corroborate details with friends or interview the accused attackers.
The trial has lasted over two weeks, as 10 jurors–the seven who will decide the case and three alternates–reviewed 11 hours of video testimony, a score of eye witnesses, and 300 exhibits. "Jackie" will be providing a recorded deposition, and will not show up in court.