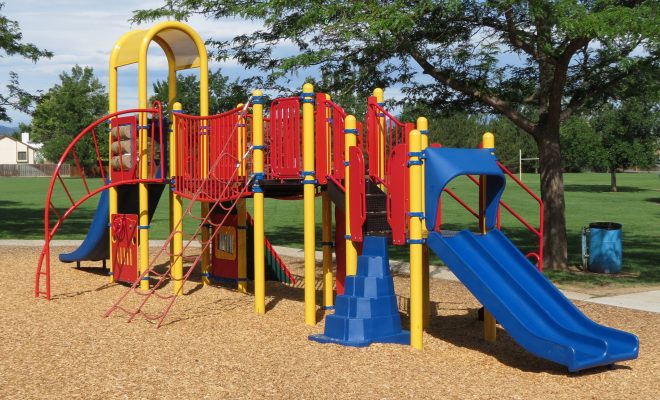 Image Courtesy of Greg Goebel License: (CC BY-SA 2.0)
Law
How a Church Playground Caused a Dispute Over Religious Freedom
By
|
The battle between church and state is moving from the playground to the Supreme Court. Five years ago, Trinity Lutheran Church in Missouri applied for money from the state so that it could repair a playground used by students in the church's learning center. Because children had been scraping their knees and elbows on the gravel, Trinity wanted to cover the area with a rubber surface.
Because Missouri's constitution does not allow public funds to support religious organizations, it rejected the church's application for a grant. The church sued in response, insisting that it should have been eligible to receive the grant because the playground upgrade did not serve any religious purposes. After losing in federal district court and appellate court, Trinity's case eventually reached the United States Supreme Court, which plans to hear arguments starting on Wednesday, April 19.
What the case boils down to is whether or not the provision in Missouri's constitution violates the U.S. Constitution's First Amendment, which prohibits the government from encroaching on the free exercise of religion.
Now, Missouri Gov. Eric Greitens has announced his plans to undo the state's policy that prohibits tax dollars from going toward religious groups. Jeffrey Mittman, the director of Missouri's branch of the American Civil Liberties Union, is among Greitens' critics who said that his move violates the state's constitution.
Greitens' new policy will not reverse the state's refusal to give Trinity the grant. However, because it settles future issues involving religious institutions applying for grants, it could mean that the Supreme Court will no longer see the need to hear the Trinity case.
But one of the church's attorneys, David Cortman, insisted that the case is still relevant because Greitens' move does not "resolve the discriminatory actions that were taken" by the state.
Having the recently confirmed Supreme Court appointee Neil Gorsuch weigh in on the matter could benefit the church. While a judge for a U.S. appeals court in Colorado, Gorsuch argued that religious freedom protected the store chain Hobby Lobby from the Affordable Care Act's requirement that it would have to offer its employees free birth control coverage.
And, depending on how narrowly the Supreme Court rules, the outcome of the case could have implications in other parts of the country as well–particularly in the 38 states that currently uphold Blaine Amendments, laws that prevent their governments from giving any financial aid to religiously-affiliated institutions.