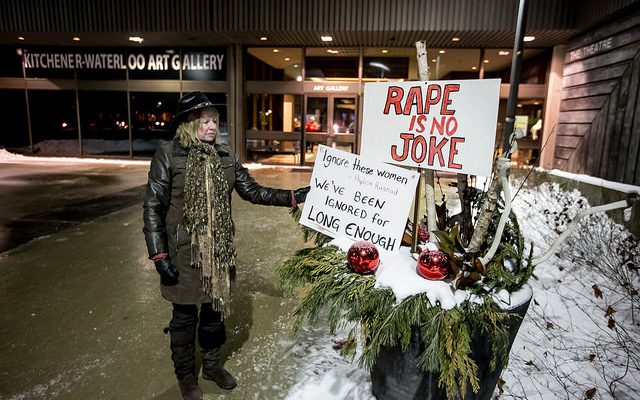 "Bill Cosby Protest in Kitchener, Ontario" Courtesy of [pixeIhouse via Flickr]
Law
California Aims to Eliminate Time Limit on Prosecuting Rape Cases
By
|
It's been over a year since New York Magazine enlisted the help of 35 women to blow the lid off Cosby's decade-spanning sex scandal. Unfortunately, California's 10-year statute of limitations for prosecuting rape meant many of these women would never face their alleged abuser in court. And that didn't sit well with Golden State lawmakers.
On Thursday, the California Assembly passed a bill to eliminate the time limit for prosecuting rape and other felony sex crimes. Now the bill referred to as SB 813 is on its way to the state Senate, which passed an earlier version of legislation 33-0 in June, according to the LA Times. If it is successful there, it could be signed into law by Governor Jerry Brown before the session ends.
The updated legislation is designed to ensure that victims of sexual assault will have more opportunities to bring their assailants to justice. Under the existing law, California mandates that rape and felony sex crimes must be prosecuted within 10 years of when the assault occurred, unless DNA evidence surfaces after the statute of limitations passes. But it isn't the only state to have time limits for prosecuting these types of crimes.
Nearly half of the states in this country have a statute of limitations for these crimes. Understanding where each state stands can be confusing at times since the U.S. hasn't standardized its terminology for what is considered sexual assault (some states define it as: Sexual Offense, Forcible Rape, Criminal Sexual Conduct, Sexual Battery, etc.) Many states do, however, make exceptions when the victims happen to be minors. But even in these cases many victims must report their attacks before they reach a certain age.
Opponents of the bill, which included the California Public Defenders Association and some victims' rights groups, spelled out a list of reasons for why statute of limitations exist for rape cases. They say the time limits are meant to decrease the chances of wrongful convictions due to inaccurate memories, deaths of witness, and lost or tampered evidence.
According to the Daily Mail, three of Cosby's alleged victims spoke before the California Senate in June to support the bill. They include Victoria Valentino, a former Playboy Model who claimed Cosby raped her in Hollywood in 1969; "Kacey," who said the comedian sexually assaulted her 20 years ago in Bel-Air; and the actress Lili Bernard, who claimed she was raped by Cosby in the '90s in Atlantic City, New Jersey.
"War criminals, no matter how many decades have passed, cannot evade prosecution," Bernard told the Senate committee. "I am asking you to do the same thing for us, rape survivors, who survived the war upon our body."
Unfortunately for her, if the bill passes, California won't be prosecuting Cosby for any former allegations, since charges cannot be brought retroactively. The bill would only apply to crimes committed after January 1, 2017, or to incidents where the statute of limitations hadn't run out by that date.
Click here to learn more about your state's laws governing sex crimes using Rape Abuse Incest National Network's database.