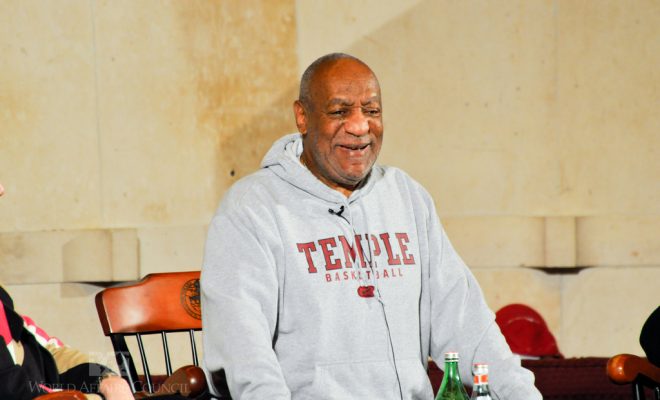 Image courtesy of the [World Affairs Council of Philadelphia]
Law
Bill Cosby Back in Court For Andrea Constand Sexual Assault Case
By
|
Comedian and former TV superstar Bill Cosby is due back in court on Tuesday, for proceedings in one of the only sexual assault cases against him that hasn't passed the statute of limitations. He is accused of drugging and sexually assaulting about 60 women over the past 50 years, but many of the women revealed what happened well after the fact, and prosecutors were unable to purse charges. The Andrea Constand case took place in 2004 in Pennsylvania, where the statute of limitations is 12 years, meaning January 2016 was the deadline for pressing charges. In December of last year, Pennsylvania prosecutor Kevin Steele did so.
Andrea Constand was an operations manager and coach for the women's basketball team at Temple University, Bill Cosby's alma mater. As in the other alleged assault cases, he invited her over to his house, gave her some pills to make her relaxed, and then  assaulted her. Cosby has denied any wrongdoing.
Two months ago the judge in the case rejected Cosby's request to have the criminal charges dismissed. On Tuesday he is due back in court for a pretrial hearing, and his lawyers want the judge to dismiss two pieces of key evidence: Cosby's deposition from 2005, and a recording of a phone call between Cosby and Andrea Constand's mother from the same year.
HAPPENING TODAY: Bill Cosby is back in Montgomery Co. court for evidence hearing. Could learn trial date @CBS21NEWS pic.twitter.com/W38d3F05wP

— Sara Small (@SaraSmallTV) September 6, 2016
The Constand case is in part based on Cosby's 2005 deposition. Cosby talked about having extramarital affairs that he claimed were consensual, despite admitting to drugging the women. According to his defense team, he only talked freely about that because then district attorney Bruce Castor promised to not bring a criminal case against Cosby. But Castor said he made the promise so that Cosby couldn't use the Fifth Amendment to avoid the questions.
Andrea Constand's mother Gianna was recording when Cosby phoned her in her home in Canada in 2005, without Cosby's knowledge. According to Canadian law it is legal to record a call with only one party's consent, but Cosby's lawyers want the court to apply the Pennsylvania law to the case, which would require both parties' consent.
However, prosecutor Kevin Steele claimed that Cosby either knew or suspected what was happening, based on comments Cosby made on the call, and the fact that he claimed to have that information in his 2005 deposition.
Cosby is currently free on a $1 million bail but could face up to ten years in prison if found guilty.