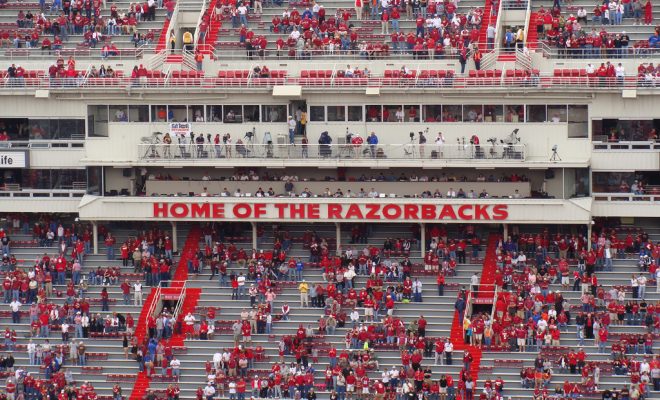 "Stadium" Courtesy of Bryan McDonald: License (CC BY-SA 2.0)
Law
Arkansas Senate Backtracks on Allowing Concealed Guns in College Sports Stadiums
By
|
If you've ever been at a college football game and thought, "Man this football game is fun, but it would be even more fun if some people in this stadium were packing heat!" then you probably were not very happy with the Arkansas Senate yesterday.
After a good dose of public outrage and some lawmakers speaking out about its dangers, a new Arkansas concealed carry expansion measure has now been watered down by an exemption passed by a 22-10 vote in the Senate. The exemption removes college sports events from the expansion.
Signed into law by Republican Governor Asa Hutchinson on Wednesday, the new measure would have allowed anyone with a concealed handgun license and eight hours of active shooter training to conceal carry in a publicly-owned building like a state college campus or the state capitol. Private establishments like bars and places of worship would also be included, although those establishments still have the right to prohibit guns from their premises. News of this measure expanding gun rights to college sports venues angered and alarmed many, leading the Senate to pass the exemption for college sports venues less than a day after the law was passed.
Among those who were confused by the very logic of the law was University of Arkansas defensive back Kevin Richardson II:
I'm curious as to why… https://t.co/Ynpo3lGUeL

— Kevin Richardson II (@K_Rich30) March 23, 2017
Speaking to USA Today Sports, Democratic Rep. Greg Leading, who represents the district that includes one of the University of Arkansas campuses, said "Most concealed-carry permit holders are responsible people. That said, accidents happen. People like to have a good time before, during and after football games in the South. People drink. People get emotional. If you're not allowed to bring an umbrella into a stadium, why should you be allowed to introduce guns into the equation?" To add to Rep. Leading's point, outside food is prohibited from most stadiums, and, on the very same day the new measure was approved, the SEC implemented a league-wide "clear bag policy" that encourages fans to bring only clear and smaller bags to SEC football games.
As the AP points out, the state of Arkansas is no stranger to supporting and expanding gun rights. In 2013, the state passed a law that allowed faculty and staff to carry concealed weapons on college campuses, given that those schools agreed to allow guns on campus, which none of them ended up doing. Governor Hutchinson is also, as the AP points out, a former chair of a National Rifle Association task force whose mission was to push for armed faculty at Arkansas public schools in response to the Newtown shooting. That shooting happened, of course, in Connecticut–over a thousand miles away from Arkansas.
This exemption is expected to pass in the Arkansas House floor sometime within the next week.
This Arkansas law comes at a time where multiple states with Republican governors are moving to pass some version of concealed carry expansion. This week, North Dakota Republican Gov. Doug Burgum signed into law a bill that institutes Constitutional Carry throughout the state and Ohio's new gun laws that allow for people to carry a concealed weapon into places like day care facilities and non-secure areas of airports went into effect.