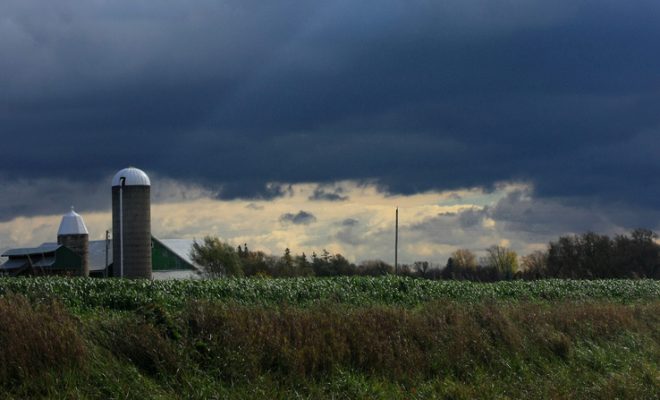 Image Courtesy of Theodore C; License: (CC BY-ND 2.0)
Energy & Environment
Dicamba: A Look at the "Deadly" Pesticide
By
|
On July 7, Arkansas and Missouri became the first two states to ban the use of the pesticide dicamba. In the age-old struggle between farmers and weeds, dicamba is the newest weapon in a farmer's arsenal. The way a lot of farming works these days is big companies, like Monsanto, genetically modify seeds so that they are resistant to certain pesticides, like dicamba. But the pesticide has ravaged acres of farmland, killing off crops that are not resistant to its fatal chemicals. In response, states are beginning to temporarily ban the use of dicamba. Read on to learn more about dicamba and the legal issues that have cropped up around its use: 
---
Seeds of the Conflict
Many farmers have begun planting dicamba-resistant seeds, particularly farmers in the Midwest. According to the Center for Biological Diversity, 1.5 million of the roughly 3 million acres of soybeans planted in the state are Monsanto's dicamba-resistant soybeans.
While nearly half of soybean farms in Arkansas are full of dicamba-resistant seeds, more than half of them are full of seeds that are not resistant to the pesticide. This is where the problem begins. Dicamba began drifting into fields planted with non-resistant seeds, killing off many plants that were not genetically modified to withstand the pesticide. When this started happening many farmers took their complaints to the Arkansas State Plant Board.
The Plant Board is a state run entity whose mission is to provide "information and unbiased enforcement of laws and regulations" that have to do with agriculture in Arkansas. They received enough complaints that the state governments of Missouri and Arkansas had to take action. Both states have banned dicamba use between July 11 and November 7. The Arkansas ruling states:
Many other instances of exposure of non-target crops being exposed to dicamba have been reported and this situation poses a grave threat to the farm economy of Arkansas and therefore the public interest requires taking action to prevent unintentional exposure of non-target crops to dicamba. Therefore, the Board finds that there is imminent peril to the public health, safety and welfare that requires adoption of emergency regulations and that the regulation should take effect upon filing with the Secretary of State.
Missouri released a similar statement that stopped the sale or use of dicamba. Missouri's ban, which includes any product with dicamba in it, will last longer than Arkansas', lasting until December 1.
This federal action follows a years-long struggle between farmers and weeds, pesticides and plants–and even farmer and farmer.

---
What is Dicamba?
Dicamba is not a new pesticide. In fact, it was devised in 1958, cooked up by the chemical company BASF. And it is not the only pesticide that farmers use. Roundup, an incredibly toxic weed killer, was once a favorite of farmers. Seed companies manufactured genetically modified seeds that were "Roundup-ready," and could withstand the toxic pesticides.
Roundup seemed like a good solution for a while. Rather than losing crops to weeds or having to go out and eliminate every weed by hand, Roundup would do the work for you. It was an easy solution, but it did not last long. Weeds began evolving, and developed resistance to Roundup. Thus, farmers began looking for new pesticides that paired with new genetically modified seeds.  
In the Arkansas government's Emergency Rule, which temporarily bans the use of dicamba, it recognizes the benefits of pesticides. The rule states:
Pesticides are valuable to the State's agricultural production and to the protection of man and the environment from insects, rodents, weeds and other forms of life which may be pests; but it is essential to the public health and welfare that they be regulated to prevent adverse effects on human life and the environment.
---
First Signs of Resistance
It all began with a weed called pigweed, a group of weeds which became resistant to most pesticides. Pigweed also spreads like wildfire. "You get one plant in your field, and that one plant can produce more than a million seeds. Many of the seeds become new plants that can choke your fields," said Steve Inskeep of NPR. Some farmers would rip it from the ground when they saw it. Others resorted to spraying dicamba.
For the 2016 growing season, Monsanto released a new dicamba spray that was less prone to drifting. Old dicamba sprays would vaporize and spread to other farmers' land. If it drifted to a farm full of non-resistant seeds, the farmer's plants would wither and die.
The new drift-averse dicamba spray has not been approved by the EPA and Monsanto told farmers not to use other drift-prone sprays, due to the problems that arose from its use. 
Farmers were fined as much as $1,000 for using the illegal spray before the ban went into effect. A steep price, but when their entire yield is at risk of being killed by a weed, some farmers decided to cut their losses. According to The Progressive Farmer, "The Environmental Protection Agency has confirmed that it executed federal search warrants at several southeastern Missouri locations as part of an investigation into alleged misuse or misapplication of dicamba onto herbicide-tolerant soybeans and cotton."
Drift is nothing new to farmers. Other pesticides have had these problems before. But in the past, farmers would just talk it out to settle the problem. With the onset of dicamba, farmers have taken their complaints to the state. 
---
Arkansas Bans Dicamba
Some farmers purchased dicamba-resistant seeds, but many others did not. Their crops are starting to die off at alarming rates, and it is believed that dicamba is largely to blame.
Many crops, including soybeans, cotton, and corn, die when they are exposed to dicamba. The leaves of the plants curl and pucker, leaving farmers with a loss on their investment.  
Arkansas Democrat-Gazette reported:
As of noon Wednesday, the Plant Board, a division of the state Department of Agriculture, had received 551 complaints of damage to soybeans, cotton, vegetables and fruit, up from 25 complaints four weeks ago. The increasing numbers led [Governor Asa] Hutchinson to sign on to a 120-day emergency ban on the sale and use of dicamba.
Terry Walker, the Plant Board's director, said in an interview with Arkansas Democrat-Gazette that the government had a right to protect the farmers who had not bought dicamba-resistant seeds and who were experiencing adverse effects because of other farmers who were using an illegal pesticide.
The Plant Board also requested an increase in fines. Their request was approved. Beginning on August 1, fines for farmers caught using dicamba will rise from $1,000 to $25,000.
---
A Pesticide Worth Killing For?
The main controversy surrounding dicamba has been the effect the pesticide has on crops. But one case escalated to the point of murder.
In 2016, farmers began noticing an increase in damages to crops that were not dicamba-resistant. More than 200,000 acres of fruits and vegetables, including soybeans, tomatoes, watermelon, and peaches, took a hit. In a year that was already one of the leanest since 2002, this extra damage was not a welcome sight.
Mike Wallace, a farmer in Arkansas, started noticing a decline in his yield. His crops were dying, and it looked like dicamba was to blame. After complaining to the Plant Board, Wallace took matters into his own hands. He called up Allan Curtis Jones, a 26-year-old farmer from Arbyrd, Missouri. The two argued over the phone and eventually met in person. The meeting, according to Modern Farmer, did not go well:
Wallace grabbed Jones by the arm during the argument, Jones pulled out a gun and shot the older man, who was unarmed. Jones' cousin called 911 and deputies found Wallace dead by the side of the road when they arrived.
Jones was arraigned last November and was released on a $150,000 bail.
---
Is Dicamba Legal in Other States?
Dicamba is very toxic and thus highly regulated.
The EPA has approved a list of 34 states (including Arkansas and Missouri) where dicamba can be registered to be used on genetically engineered cotton and soybeans. The EPA has also approved a special strain of dicamba, Xtendimax, that can be used on genetically engineered cotton and soybeans.
Xtendimax "is designed to be the industry's lowest volatility dicamba," according to its manufacturer, meaning it is less likely to evaporate. The problem with other dicamba formulas was they would evaporate once sprayed, and float to nearby fields, some of which were not planted with dicamba-resistant seeds. This new formula, which still requires farmers to follow a list of precautions in order to ensure they are adhering to safe practices, was designed to combat the drifting problems many farmers were seeing.
---
Next Steps
For farmers in Arkansas and Missouri, the next steps will be to untangle the complaints, and to closely examine dicamba's potential problems and opportunities. Bob Scott, professor and weed scientist at the University of Arkansas Cooperative Extension Service, recently told CropLife, "Going into the fall, we're really going to have to look at drift complaints, categorize and narrow them down, and try to figure out what's going on here to determine whether we can use this technology or not."
Scott said that some farms that were following the rules were still being investigated because their neighbors reported what looked like dicamba-related damage. That could mean a variety of things. Perhaps the dicamba is drifting farther than farmers previously thought it could. Maybe the approved methods of dicamba use are not as safe as was once thought. Whatever the answer ends up being, a thorough investigation will likely be conducted in the coming months. 
---
Conclusion
Dicamba has led to a lose-lose situation for farmers in Arkansas and Missouri. The farmers who did not buy genetically modified seeds saw losses because their crops could not withstand the illegal use of dicamba. The farmers who did buy dicamba-resistant seeds are now barred from using the powerful pesticide because of the new Emergency Rule. Their options are limited. Some plausible options are they can either pull weeds by hand, try other pesticides, or hope that the weeds do not kill too many of their crops. For now, farmers in Arkansas and Missouri must resist using dicamba, unless they accept the hefty fine–or worse.