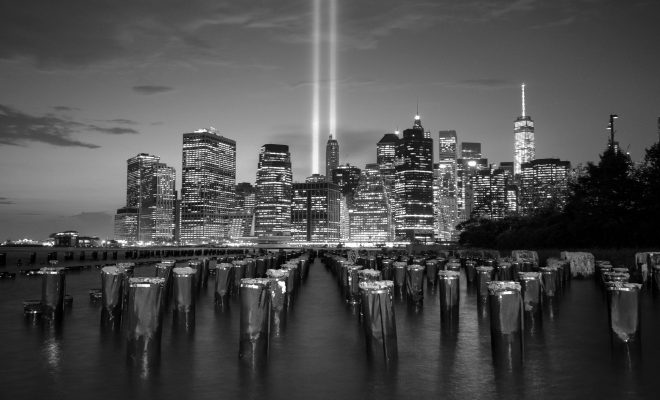 Image courtesy of Marcela; license: (CC BY 2.0)
Law
Families of 9/11 Victims Sue Saudi Arabia Over Alleged Support of al-Qaeda
By
|
Hundreds of families of 9/11 victims are suing the government of Saudi Arabia for its alleged involvement in the terror attacks that claimed thousands of lives. The lawsuit, filed in New York City last Friday, claims that leading officials in the Saudi government provided terrorists with material support and resources to enable the attacks. Saudi Arabia has never admitted its involvement, but 15 of the 19 plane hijackers that crashed the airplanes into World Trade Center were identified as Saudi Arabian.
The lawsuit, which is 194 pages long, was made possible after Congress passed a bill called the Justice Against Sponsors of Terrorism Act last September. President Obama vetoed the bill only days before, as he feared it could backfire and allow other countries to file lawsuits against the U.S. for alleged support of terrorists in other countries. But, his veto was overridden, allowing the bill to become law.
Sept. 11 families sue Saudi Arabia over 9/11 attacks https://t.co/RaPc9RjUYY pic.twitter.com/MQzQmu1vOy

— Bloomberg (@business) March 21, 2017
The personal injury and wrongful death suit states that Saudi Arabian officials funded al-Qaeda through governmental nonprofits that posed as charities. But instead of going to a charitable cause, money was sent through complicated webs of middlemen to the terror organization to fund attacks on the U.S. The lawsuit claims that the government even ordered Saudi Arabian officials and diplomats to assist the hijackers after they arrived in the U.S., by giving them fake travel documents, weapons, cash, and other equipment.
The families of the victims say this lawsuit is long overdue. "We're going to find out what actually happened on 9/11," said retired FDNY fire chief James Riches, one of the plaintiffs, to Newsday. "If [Saudi Arabia] helped the terrorists commit terrorist acts on American soil, they'll be held accountable. If the Saudis did nothing wrong, they have nothing to worry about."
One of the attorneys for the plaintiffs, Michael Barasch, said that it's obvious the terrorists couldn't have carried out such a complicated attack by themselves and he wants to find out who helped them. "If it was Saudi Arabia they need to pay. They need to pay dearly and think twice the next time some Saudi Arabian prince or government wants to do such a heinous and cowardly act," he said.
But the Saudi government is not happy, and the energy minister, Khalid al-Falih, warned vaguely that there could be "consequences." He also said that the Saudi government is hoping that the Trump Administration will overturn the new law that makes lawsuits like this possible. He said that he hopes that after "due consideration by the new Congress and the new administration, that corrective measures will be taken."
Trump wins Saudi praise for a historical "turning point" after meeting Prince Salman https://t.co/T0yylnBved pic.twitter.com/PcEqVaJqHp

— Bloomberg (@business) March 15, 2017
But, Saudi Arabia does have quite a few other reasons to like President Donald Trump. He has been tough on Iran, one of Saudi Arabia's biggest opponents, and some believe he is less likely to criticize the country's record on human rights than the Obama Administration was. One week ago, Trump met with Mohammed bin Salman, the Deputy Crown Prince and Minister of Defense, at the White House. Both sides said it was a historical shift and very good meeting. But it remains to be seen if this lawsuit will affect that relationship.