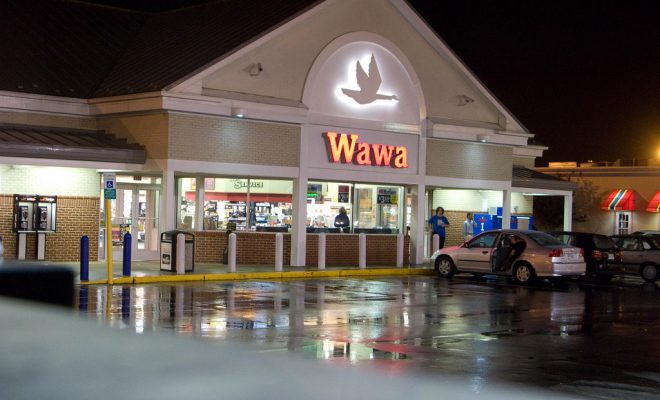 Image courtesy of Terry Robinson; License:  (CC BY-SA 2.0)
IP & Copyright
Wawa Sues Convenience Store Named DaWa
By
|
If you've ever been on a road trip in the Mid-Atlantic or Florida, you've likely stopped at a Wawa for gas, snacks, or made-to-order fast food. In certain states, love for Wawa is even cult-like. But now, Wawa devotees are seeing their favorite rest stop destination in the news, as the chain has filed a trademark infringement lawsuit in federal court against a Paterson, New Jersey food store called DaWa.
According to DaWa's owner, Mike Han, the name is based on the Korean phrase "everyone is welcome." He has owned the store for a few years, and was shocked by the lawsuit. He told NJ.com "I was laughing when I saw the lawsuit. The issue makes no sense at all."
The lawsuit claims that customers will be confused by the names, and mistake DaWa for Wawa, and Wawa has put a lot of work into its reputation. The lawsuit reads:
The WAWA mark receives significant unsolicited media coverage and has been seen and heard in movies and television shows, such as the popular sitcom The Goldbergs, as well as periodicals such as Harvard Business Review, where a case study featured Wawa as a strong brand with a noted and devoted following.
The fonts on the logos do look similar. And DaWa's sign has a leaf over its name, while Wawa has a goose. The goose symbolizes the fact that the convenience store chain was named after a Native American word for Canadian Geese.
Wawa vs. Dawa: Convenience store chain sues store over name
??? https://t.co/ECet6kAzUz

— thaiparampil (@thaiparampil) February 4, 2017
Wawa has gone after companies that had similar names to it before. According to Philly.com writer Michael Boran:
In the late 1990s in Lehigh County, a judge ordered a store named 'Haha' to change its name after Wawa filed a suit. Haha's owner relented, but said after the ruling: 'We only lost the court battle. We won the war. Everybody knows we're here.'

In Florida, Wawa also sued in 2014 to order a restaurant called 'Wawa Curry Taste of India' to change its name. A judge sided with Wawa, and the restaurant changed its name to 'Wava Taste of India.'
We'll have to see if Wawa is as successful this time.