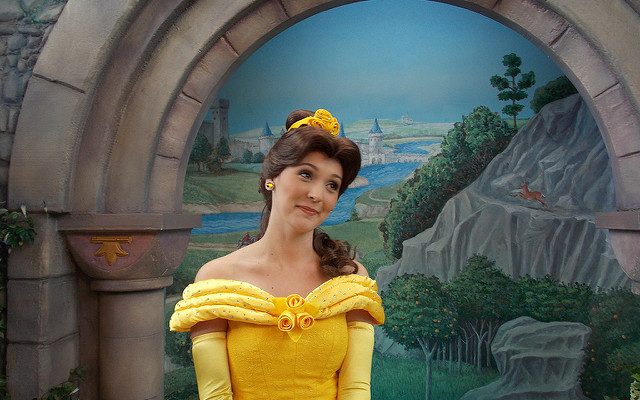 "Belle" Courtesy of Jennie Park mydisneyadventures License: (CC BY 2.0)
IP & Copyright
Disney Sued Over "Beauty and the Beast" Visual Effects
By
|
Disney is being sued over the ownership rights to a visual effects technology it used in this year's "Beauty and the Beast," 2015's "Avengers: Age of Ultron," and 2014's "Guardians of the Galaxy."
Rearden, a company founded by Silicon Valley entrepreneur Steve Perlman, filed a lawsuit against Disney Monday in a U.S. district court in San Francisco, alleging copyright, patent, and trademark infringement stemming from the use of a facial-capture technology called MOVA Contour.
MOVA, which was used in "Beauty and the Beast" to convert actor Dan Stevens' facial movements into those of the Beast character, was developed by Perlman and his associates in the late 1990s. To use MOVA, actors' faces are airbrushed with glow-in-the-dark paint that is only visible under a black light. A light strobes rapidly–unseen to the human eye–allowing a camera to capture those movements for animators to then use as the foundation for the animated character.
According to the lawsuit, "Disney used the stolen MOVA Contour systems and methods, made derivative works, and reproduced, distributed, performed, and displayed at least 'Guardians of the Galaxy,' 'Avengers: Age of Ultron,' and 'Beauty and the Beast,' in knowing or willfully blind violation of Rearden Mova LLC's intellectual property rights."
The lawsuit arose from another ongoing dispute between Rearden and Chinese-based company Shenzhenshi Haitiecheng Science and Technology (SHST). According to court documents from a lawsuit between SHST and Rearden, Greg LaSalle, a former associate of Perlman, helped develop MOVA while employed by Perlman's companies, Rearden and OnLive.
OnLive went out of business in 2012 and the MOVA Assets were transferred to a company called OL2. When LaSalle transferred from OnLive to Rearden he signed an employee contract containing a Proprietary Information and Inventions Agreement (PIIA), in which he agreed to assign all proprietary information that he acquired during his employment to Rearden.
Following Rearden unsuccessful attempts to launch MOVA commercially, Perlman transferred the MOVA Assets to LaSalle. Perlman later claimed that LaSalle's PIIA gave Rearden sole ownership rights to the MOVA Assets. Despite those claims, LaSalle sold the technology to SHST in May 2013, according to court documents from the SHST lawsuit.
However, Rearden claims that SHST should not have even been able to buy MOVA, because MOVA Assets–along with their ownership rights–were transferred to a Rearden subsidiary in April 2013. The complaint also notes that LaSalle was not a Rearden employee at the time of the sale, and therefore did not have the authority to sell the technology.
As part of the complaint, Rearden requested an injunction to prohibit Disney from "reproducing, distributing, performing, or displaying" the three movies that used MOVA.
The lawsuits that Rearden and Disney are entangled in are complicated to say the least. But these cases demonstrate the complex nature of intellectual property law, a field that has only become more complex in our increasingly globalized world.