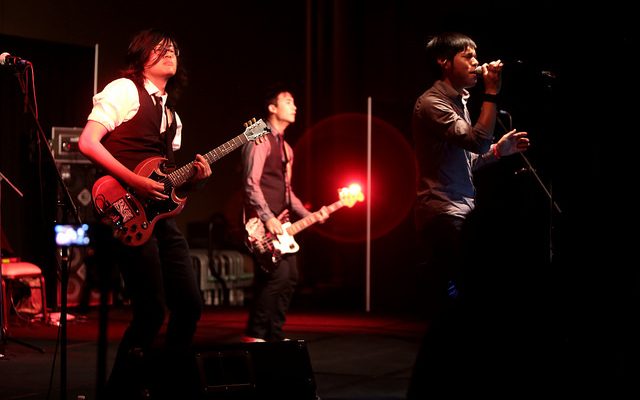 "The Slants" Courtesy of Gage Skidmore: License (CC BY-SA 2.0)
IP & Copyright
Rock Band The Slants Takes Trademark Case to the Supreme Court
By
|
An Asian-American dance rock band known as The Slants is one step closer to securing a trademark for its name. But a victory for them could have some unintended consequences. The group recently argued its case to the Supreme Court after a years-long legal battle that began when the U.S. Patent and Trademark Office (PTO) denied the band's application to trademark its name, which is intended to reclaim an anti-Asian slur.
According to the PTO, granting the trademark would be prohibited by the 1946 Lanham Act, which forbids the "registration of marks considered scandalous or immoral" or language that may "disparage" a group of people, like Asian-Americans.
But the Washington Post reported that during an oral argument on Wednesday, the majority of justices seemed to come down on the side of The Slants, who argued that blocking the trademark would violate the First Amendment. Justice Elena Kagan pointed out that the PTO refusing to trademark speech it viewed as negative would be "viewpoint discrimination."
On the other hand, Justice Sonia Sotomayor said that "no one is stopping" the band from calling itself The Slants, and that pushing for a trademark would be "asking the government to endorse" the name. But approving a trademark for The Slants might open the door for the PTO to grant trademarks for other offensive terms (although Justice Ruth Bader Ginsburg noted during the arguments that the band's intent was not to be disparaging).
A win for The Slants in Lee v. Tam could also mean a win for the Washington Redskins, which was denied a trademark in 2014 for the same reason. The football team filed an amicus brief–a document submitted by a party that is not involved, but has a strong interest in the case–to support the band.
The support from the Redskins is ironic, considering the fact that the team has come under fire for spreading Native American stereotypes, while The Slants prioritize combating racism. The band's front man Simon Tam has explicitly tried to distance himself from the Redskins' case and its owner Dan Snyder. "I don't want to be associated with Dan Snyder," Tam told the Washington Post.