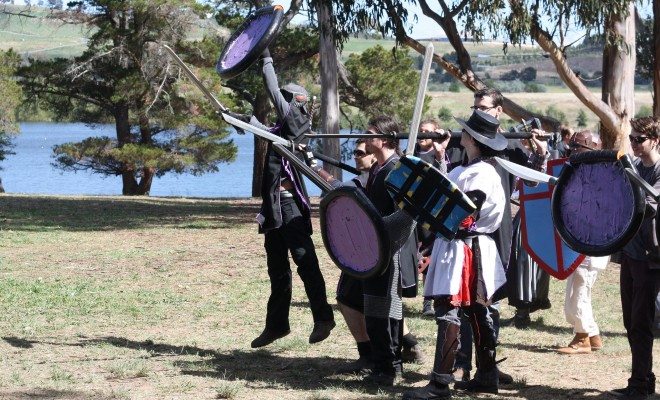 Image courtesy of [Stephen Dann via Flickr]
IP & Copyright
LARPer Goes to Battle in the Courtroom Over Foam-Tipped Arrow Patents
By
|
This week in Live Action Role Play (LARP) news, Jordan Gwyther–priest, father, avid LARPer, and founder of larping.org–is no longer being sued by an Indiana archery company for patent infringement.
Let's back up and talk about this step by step. For some background knowledge, LARPing is defined as:
A type of role-playing game in which each participant assumes a particular character and acts out various scenarios at events which last for a  predetermined time.
Essentially, people dress up in all kinds of outfits and act as those characters in a group setting. It is common for people to LARP as comic book characters, anime characters, and even medieval characters. Fighting in some form is frequently involved.
In this case, Global Archery sued Jordan Gwyther last October for patent and trademark infringement because he was reselling foam arrows shipped from Germany to people in the LARP community to use in LARP battles. The Indiana-based company was enraged by Gwyther's competition and filed a complaint against him in an Indiana district court claiming they own the patent on all foam arrows used in LARP.
Part of the drama surrounding this case is the public stir that it has created among LARPers. Global Archery started the suit by bragging about their large legal budget, over $150,000, and filing for a gag order against Gwyther when he attempted to start a GoFundMe campaign to raise money to cover his legal costs. The account, which was started around a month ago, has raised almost $8,000 to help pay for legal fees and features a compelling video from Gwyther about how the very fabric of LARP is being challenged by this lawsuit.
Between the slow build of the dramatic background music and the serious rhetoric about the endangerment of the LARP community, the video makes a compelling argument as to why people should give money to Gwyther's cause. He also claims he will donate all funds leftover after the lawsuit to a charity of the donors' choice.
While Global Archery has decided to drop the lawsuit surrounding patent violations, they are still suing Gwyther for infringement of Global Archery's trademark, Gwyther's purchase of Google Ads surrounding his business, and for false advertisement. John Jackson, the founder of Global Archery, told Ars Technica the following upon review of the original case:
After the dust has settled and our legal counsel has had time to analyze a translated copy of the German prior art reference provided to Global Archery by Mr. Gwyther's counsel, Global Archery has decided to voluntarily dismiss the patent counts against Mr. Gwyther with prejudice.
The good news for Gwyther is that, within the past few days, he has received word that Newegg, a tech company supported by Lee Cheng, a famous anti-patent-troll legal expert, has reviewed this case and is going to support him throughout the legal proceedings. Newegg has donated $10,000 to Gwyther's case and created new t-shirts partially designed by Gwyther to sell in order to raise even more money. Newegg is well known for helping defend against patent trolls and Cheng specifically spoke out about this case claiming that it,
Represents the same type of abuse of intellectual property rights Newegg has stood up to for years. Global Archery's patents would likely not withstand an invalidity challenge, but they are leveraging them to demand settlement terms that would effectively force this enthusiast and entrepreneur out of business.
So what does this mean for all you LARP fans out there? Well, if Gwyther loses this case, there is a high probability that Global Archery will become one of the only places to get your foam-tipped arrows. But, we can all probably rest easy knowing that some of the best legal counsel when it comes to patent trolling is on Gwyther's side. And, hey, if you feel so inclined, buy a shirt to help out Gwyther's cause.