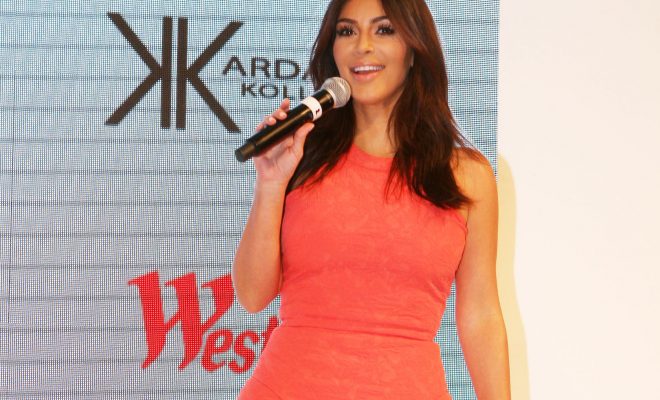 "Kim Kardashian West, Parramatta Westfield Sydney Australia" Courtesy of Eva Rinaldi : License (CC BY-SA 2.0)
IP & Copyright
Kim Kardashian Sued for $100M Over Selfie Phone Case
By
|
The selfie queen herself, Kim Kardashian West, is being sued for $100 million for copyright infringement relating to her signature light up smartphone case. A man by the name of Hooshmand Harooni filed suit against West's company Kimisaprincess Inc., claiming the LuMee case she endorses is a rip off his own light up case.
The LuMee cases act like portable ring lights, providing continuous lighting around the phone's perimeter, and typically retail for around $55-$70.
According to the lawsuit, Harooni obtained a patent in 2013 for an "integrated lighting accessory and case for a mobile phone device" and licensed it exclusively to Snap Light LLC.
West has frequently promoted the LuMee case on her social media accounts, and even used it when taking her now infamous selfie with then-Democratic presidential candidate Hillary Clinton.
On the Ellen Show today Hilary Clinton talks about how she never looked better in our perfectly lit selfie! #LUMEE pic.twitter.com/6svy37T46u

— Kim Kardashian West (@KimKardashian) January 11, 2016
Aside from stealing his product, Harooni also claims that West's promotion of the case awarded LuMee an unfair competitive advantage due to her trendsetter status.
"Despite having superior, patented products, it has been extremely difficult for Snaplight to compete in the selfie case market against Ms. West's product influence and Defendants' ongoing infringement," Harooni claims. He is also suing Urban Outfitters for distributing LuMee. "Snaplight and Mr. Harooni have suffered financially as a result."
Harooni is suing for $100 million to recoup his lost profits, and is also asking that West stop promoting the LuMee cases.
In a statement to TMZ, a rep for the Kardashians  called the lawsuit another "attempted shakedown."
"The patent lawsuit filed by Snap Light has no merit and is just another attempted shakedown," the statement reads. "Kim has done absolutely nothing wrong."
LuMee echoed that sentiment in a statement of its own:
LuMee is an innovator of illuminated cell phone cases and was the first to market. Between its patents, copyrights and trademarks, LuMee has developed substantial intellectual property rights surrounding its product line. LuMee is currently asserting patent infringement against Snaplight.
For those of you "keeping up" with the Kardashian/Jenner family's intellectual property lawsuits, July was a rough month for the reality stars. Both Kylie Jenner and her sister Kendall were sued for misappropriating and exploiting images of Tupac Shakur with their controversial vintage tees, and last week, Kylie was also accused of copying a British artist's work with her lip bite logo for her new television series "Life of Kylie."