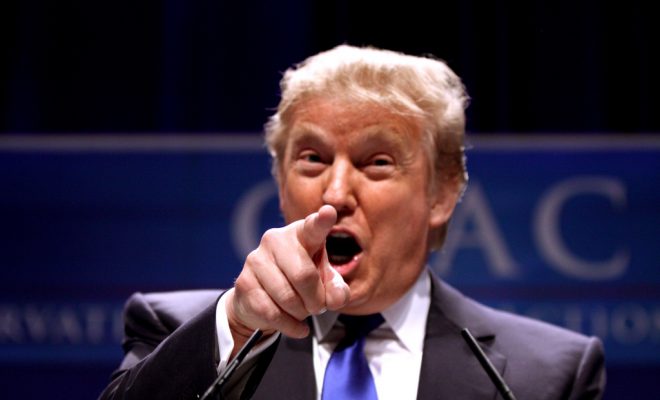 "Donald Trump" courtesy of Gage Skidmore; License: (CC BY-SA 2.0)
Humor
Is the White House Editing Pictures of Trump's Hands?: Probably Not
By
|
Throughout the election, there was one particular superficial criticism of President Donald Trump that seemed to stick–that his hands were rather small. Trump–who's known for dealing poorly with criticism–may have taken that particular jab to heart. Because now some internet sleuths are claiming that the White House is photoshopping official photos to make Trump's hands look bigger than they actually are.
Here's the evidence, in gif form:
The discrepancy in hand size appears to have first been noticed by Dana Schwartz, who writes for the Observer. She tweeted:
Trump 100% photoshopped his hand bigger for this picture hanging in the white house, which is the most embarassing thing I've ever seen pic.twitter.com/MGTbFfdLqp

— Dana Schwartz (@DanaSchwartzzz) January 27, 2017
Schwartz, as well as some of her followers, tried to get to the bottom of what I've wisely decided to dub PhotoshoppedHandGate.
@DanaSchwartzzz Here, this is the absolute most precise I could get it. The color & contrast changes, but nothing moves. pic.twitter.com/zHFItu8Knx

— Christopher Keelty (@keeltyc) January 27, 2017
@DanaSchwartzzz tried to scale the photos based on their shoes (and was generous). Trump's hand is still enormous compared to the original. pic.twitter.com/9XraoWKO8l

— Joon Lee (@iamjoonlee) January 27, 2017
Based on my (unscientific) eye Trump's hand certainly looks bigger in the White House release. But what exactly happened? Some have hypothesized that PhotoshoppedHandGate may be similar to the "dress" phenomenon–lighting and angles are playing a trick on our eyes. And Philip Bump, from the Washington Post pretty handily (see what I did there?) debunked it on Twitter.
OK. So, this "Trump's hand is Photoshopped" thing is nonsense.

— Philip Bump (@pbump) January 27, 2017
First, the ABC segment clearly uses a version of the photo from Getty, not a shot of the photo on the wall. https://t.co/h0JMpVsU1A

— Philip Bump (@pbump) January 27, 2017
Second, if you compare ABC shot (in preceding tweet) with image from Getty, below, they're the same, except color. https://t.co/cbeUwuoNp8

— Philip Bump (@pbump) January 27, 2017
And here you go: A GIF that I just made. Not aligned perfectly (my fault), but the hand is the same. pic.twitter.com/N7Zii1qRMY

— Philip Bump (@pbump) January 27, 2017
So as fun as it could have been to pretend that there's an official White House staffer dedicated to photoshopping Trump's hands in photos…that's almost certainly not the case. But, for a few minutes during a long week, at least we were all distracted by the possibility.