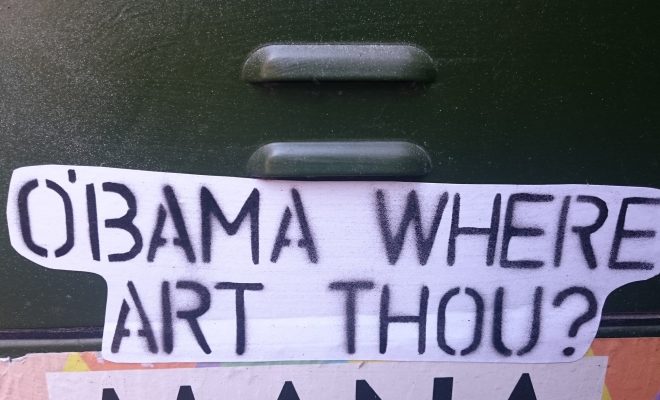 Image courtesy of Duncan Hull; license: (CC BY 2.0)
Humor
People Keep Bursting into Applause When they See Obama on the Street
By
|
Many of us miss President Barack Obama in the White House, so much so that when he was recently spotted out and about spectators erupted in roaring applause. At the end of February, the former president had dinner at Emilio's Ballato in Soho with his daughter Malia, who has an internship in New York. They later took pictures with the staff of the restaurant.
Barack Obama & Malia Obama out & about in NYC. The father-daughter dinner date is really cute. pic.twitter.com/AVnaENi1W2

— nañi (@pettyblackgirI) February 24, 2017
The next day, Obama was seen getting coffee at a Starbucks in downtown New York City. The word spread fast and when he exited a building on Fifth Avenue people on the streets behaved like it was Beatles in the 1960s.
Obama just left a meeting off 5th Ave. Hundred outside cheering. pic.twitter.com/6oPC3yCEEX

— Alex Heath (@alexeheath) February 24, 2017
Some commented on his post-White House glow, which probably comes from his vacation in the Caribbean with Michelle and their friend Richard Branson, who taught Obama to kitesurf.
He's rested & has a glow about him. The man is back. pic.twitter.com/EGyrjSn8EY

— deray mckesson (@deray) February 24, 2017
Later that evening, Obama went to Broadway to see Arthur Miller's "The Price." Classy as he is, he didn't make a big fuss about it, but snuck in with Malia and his former adviser Valerie Jarrett after the lights went out. Apparently someone used a flashlight to show the trio to their seats, which even annoyed some visitors. "Who is so rude to come in after the show starts with the flashlights and everything?" Theater visitor Laralyn Mowers recalls thinking. But when her friend told her who it was, Mowers said that her day, which up until then had been really bad, definitely changed for the better.
Okay, so it's intermission. Obama and Malia came in and left when the lights were down. The crowd didn't notice. Nice job, Secret Service.

— Sopan Deb (@SopanDeb) February 25, 2017
The Obamas left right after the show ended–but not before giving the cast a standing ovation–and went backstage to snap some pictures with the actors Danny DeVito, Mark Ruffalo, Jessica Hecht, and Tony Shalhoub.
Barack Obama has a sweet father-daughter date night with Malia at Broadway's #ThePrice. https://t.co/b49OsTatAr pic.twitter.com/iPumQ8OF5L

— EntertainmentTonight (@etnow) February 25, 2017
Obama exited the theater quietly, but his fans still found him and cheered him on, with an applause. As always, he took some time to give a little wave.
Former President Obama, daughter Malia leave theater after watching "The Price" on Broadway https://t.co/tzKPwwakn3 pic.twitter.com/rhZOVzLpKn

— NBC New York (@NBCNewYork) February 25, 2017
On Monday, Obama and Michelle popped into the National Gallery of Art in Washington D.C. and as they left the building, a crowd of people once again applauded and cheered the former presidential couple. NBC reporter Benjy Sarlin happened to be there and speculated that breaking out in applause when spotting Obama now seems to be the new norm.
Crowd as President Obama leaves the National Gallery pic.twitter.com/lqPSSNrKg9

— Benjy Sarlin (@BenjySarlin) March 5, 2017
This was the first time the Obamas were seen publicly since Donald Trump made his claims that he believes Obama wiretapped his phones in Trump Tower before the election. Trump has not offered any evidence for his controversial claims, and Obama's spokesperson has denied that any such thing happened. Luckily it seems like the Obamas didn't take the accusations too hard, and they got to enjoy an afternoon at the museum.