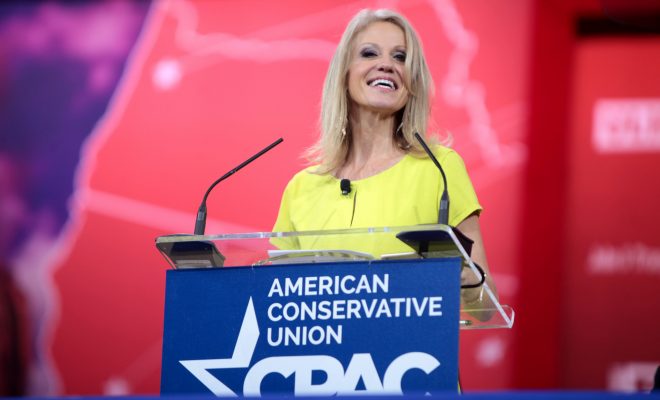 "Kellyanne Conway" courtesy of Gage Skidmore; license: (CC BY-SA 2.0)
Humor
Kellyanne Conway's Inauguration Getup Raised Some Eyebrows
By
|
Donald Trump is now officially the 45th president of the United States. But something else caught our attention at the inauguration ceremony–Kellyanne Conway's outfit. She celebrated Trump's swearing in wearing a very patriotic coat/dress in red, white, and blue. Someone pointed out that the outfit is a $3,600 Gucci creation, and if you look closely, the buttons are actually catheads. She paired the coat with a red hat.
Twitter exploded with speculation about her inspiration:
Why is Kellyanne Conway wearing a Nutcracker costume

— David A. Graham (@GrahamDavidA) January 20, 2017
Who wore it better: #KellyanneConway or the #Nutcracker???? https://t.co/PrA7dVBTq7 pic.twitter.com/VEsmukfHfl

— Perez (@ThePerezHilton) January 20, 2017
"The Daily Show" was pretty on point.
Kellyanne Conway dressed as the era Trump wants to take America back to. #InaugurationDay pic.twitter.com/Vrmc1Bq3Nz

— The Daily Show (@TheDailyShow) January 20, 2017
Though the colors match the American flag, the high-end designer clothing site Net-A-Porter wrote that the coat was inspired by the British flag that includes the same colors. And considering the British connection, she could also have been inspired by this furry guy—especially with the hat.
Who wore it better: Kellyanne Conway or Paddington Bear? pic.twitter.com/CP2M6fzLyD

— Michael Hopper (@mhopp7) January 20, 2017
But the French flag also has the same colors, so maybe it was a nod to Napoleon.
Kellyanne Conway going for the "Napoleon" look I see #Inauguration #DisruptJ20 pic.twitter.com/SbRSA7vRE8

— Yes, You're Racist (@YesYoureRacist) January 20, 2017
Or maybe she was influenced by the sports world?
Why does Kellyanne Conway look like the old New England Patriots logo? pic.twitter.com/swgdHH53v6

— Tyler Brooke (@TylerDBrooke) January 20, 2017
Today also happens to be Kellyanne's 50th birthday, so maybe she just wanted to be really dressed up in her favorite colors. The inauguration festivities will go on all day long and end with the inaugural balls tonight.