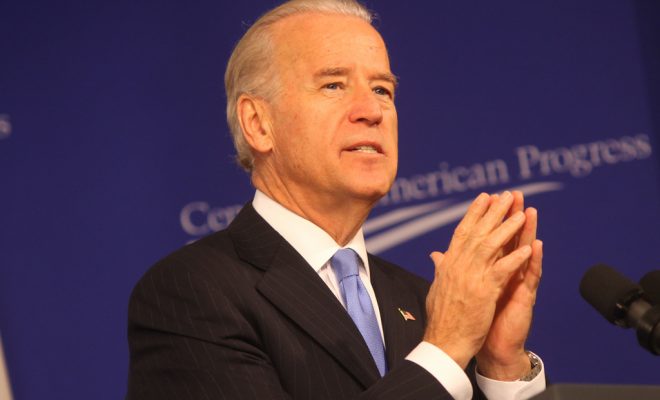 "Vice President Joe Biden" courtesy of Center for American Progress; license: (CC BY-ND 2.0)
Humor
Joe Biden Goes "Full Biden" at the Senate Swearing-In Ceremony
By
|
On Tuesday, the swearing-in ceremony for the new Senate took place and Vice President Joe Biden had to call the group to order twice. After the official swearing-in was over with, Senators brought their family members up to meet the VP and pose for photos. It was the last ceremony for Biden as VP, so there were a lot of photos taken, and Biden was at his most Biden-like.
Happening now: @VP Biden swears-in new Senators for the last time (a must-see Congressional tradition):: pic.twitter.com/JkRXt4BRiG

— Frank Thorp V (@frankthorp) January 3, 2017
Biden was as funny as always and told the mother of Republican Senator Tim Scott of South Carolina, "When I die, I want to be reborn in Charleston." Another senator's mother took the opportunity to give Biden a bear hug.
Everyone is @ChuckGrassley's mom today. We'll miss you Joe. pic.twitter.com/z7xS7kXVoE

— ClotureClub.com (@ClotureClub) January 3, 2017
For some members, the photo session took longer than for others. Democratic Senator Kamala Harris from California brought 15 family members who had traveled all the way from India, as well as a best friend from childhood and her mother's BFF. "Aren't you glad there's not 435 senators?" Biden joked with the journalists and photographers.
"At least I wasn't in high heels—although things are changing, man," Biden says of the 5,500 pics he took at VPOTUS holiday parties.

— Phil Elliott (@Philip_Elliott) January 3, 2017
He blew kisses to Illinois Senator Tammy Duckworth's two-year-old daughter and tried to charm another baby, who was not as impressed.
Also this baby totally snubbed Biden pic.twitter.com/4lzdw2AIaB

— Sarah Parnass (@WordsOfSarah) January 3, 2017
After taking some photos with Senator Marco Rubio of Florida, Biden asked to have a photo with just the kids.
📷 @VP Joe Biden kicks @marcorubio out of a photo op so he can take a picture with the Florida senator's kids pic.twitter.com/AiKVSw7FSU

— POLITICO (@politico) January 3, 2017
Joe Biden will leave office later in January and told reporters that he won't miss all the hullabaloo around official events like this. He has said that he knows what he will do next and will announce his plans soon. Many of us will miss him, and many hoped he would run for president in 2016. But maybe he'll star in his own show instead:
Guys we need a kickstarter for a Joe Biden reality show that is just him doing this https://t.co/SS5jNmONx0

— rcohen (@rcohen) January 3, 2017
But Uncle Joe will probably make whatever decision is the best for him and his family and hopefully do a lot of good in a new role. "I'm going to try to take the VP office out of the office and establish a domestic and foreign policy piece where I can still do a lot of the stuff I care a lot about," he said.