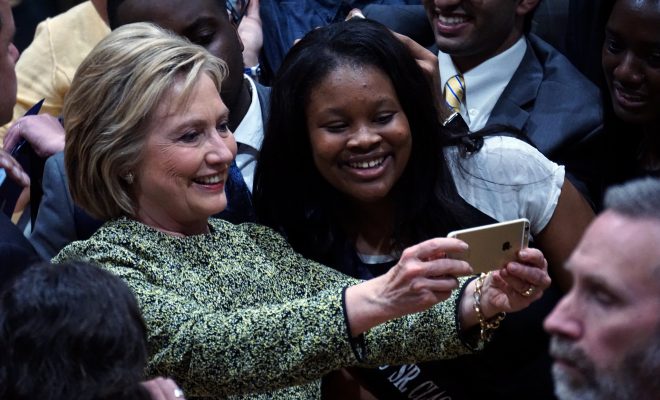 "Hillary Clinton" courtesy of Nathania Johnson; License: (CC BY 2.0)
Humor
Hiking for Hillary? People Try Looking for Her in the Woods
By
|
After the election results became clear, many were shocked by the outcome, and for some, that shock continues today. But ever since a hiking mom and her young daughter ran into Hillary Clinton in the woods of Chappaqua, New York just after the election, Hillary-fans have flocked to the upstate New York town, hoping to catch a glimpse of or maybe even a selfie with her. And some have been really lucky!
When you go pick up your pie and the entire Clinton family is shopping 2#shopsmallbusiness #looksgreat#happythanksgiving @HillaryClinton pic.twitter.com/L9zQWLJlB2

— Linda (@lindapmgbosco) November 23, 2016
Others were determined to make a day of it no matter how long it would take.
I'm in Chappaqua!! I'll be crouched in the goddamn woods all day, waiting for Hillary Clinton to appear & take a viral photo with me

— Zach Schonfeld (@zzzzaaaacccchhh) November 24, 2016
The chance meetings were soon called Clinton sightings, drawing parallels to some kind of game or the search for a rare animal. There's even a Twitter account dedicated to the phenomenon that appeared recently with the handle @HRCintheWild.
Another Clinton sighting. This time at the market in Chappaqua. pic.twitter.com/xvAtGWGgCR

— Yashar (@yashar) November 24, 2016
The woman in the sun glasses received more votes for president than any white male that has ever run for the office in our history. pic.twitter.com/lPpWWvb2LO

— HRC In The Wild 🌲 (@HRCintheWild) November 29, 2016
Some saw the recent round of selfies as a reminder that she should really be planning her presidency right now.
WHEN HILLARY CLINTON IS HIKING AND GROCERY SHOPPING WHEN SHE SHOULD BE PICKING A PRESIDENTIAL CABINET

— Ryan Nicole (@kangasroo) November 28, 2016
Like his wife, Bill Clinton was also happy to take some photos with fans.
Bill Clinton poses for pictures with fans in Chappaqua https://t.co/IfD3wdJ3tK pic.twitter.com/e2nwfsJEjS

— Daily Mail US (@DailyMail) November 15, 2016
On Thanksgiving, Hillary posted her own picture showing signs that fans had made to support her. A very heartwarming Thanksgiving message indeed.
I was greeted by this heartwarming display on the corner of my street today. Thank you to all of you who did this. Happy Thanksgiving. -H pic.twitter.com/b69mW3Oqbf

— Hillary Clinton (@HillaryClinton) November 24, 2016
Last week, Jill Stein petitioned Wisconsin to recount the ballots cast in the state under the suspicion of election tampering, though no significant evidence of tampering has been uncovered. The Clinton campaign said it joined the recount effort but noted that there was little hope that a recount will change anything. Stein promised to also file for recounts in Pennsylvania and Michigan, which were pivotal states that Donald Trump won by relatively narrow margins. While the recounts will almost certainly not matter, Hillary fans will likely keep their fingers crossed and keep hiking.