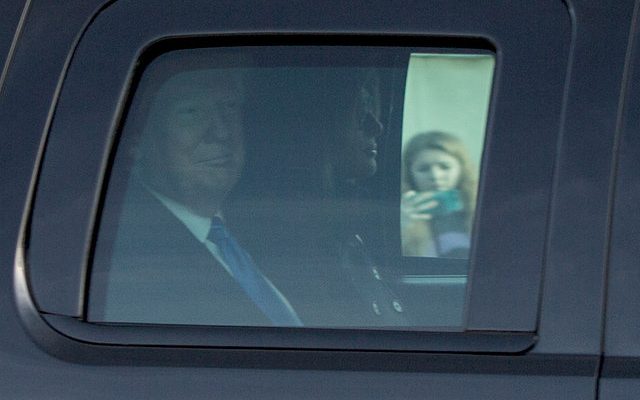 "Trump arriving at Arlington Cemetery" Courtesy of Lorie Shaull : License (CC BY-SA 2.0)
Humor
#FreeMelania: Why Does the Internet Think Melania is a Hostage?
By
|
Twitter is convinced that our new First Lady of the United States, Melania Trump, is being held hostage. While the theory sounds quite far-fetched, it's not without some evidence, prompting the viral hashtag #FreeMelania.
In a clip from the inauguration, Melania is seen smiling at her husband, President Donald Trump, but the second he turns back around her smile is gone.
Here's a closer look:
#FreeMelania Blink twice if you want us to save you. pic.twitter.com/1H5as3tbZq

— ISTANBUL THEMES (@ISTANBUL_THEMES) January 24, 2017

Twitter users were quick to speculate on whether or not the first lady was acting on her own free will, and here's their evidence:
Exhibit A:
Her husband didn't escort her to meet the Obamas.
Donald Trump was so excited to see the Obamas that he forgot his bride at the car. #SpicerFacts #obamasgrace #4yearsof #freeMelania pic.twitter.com/TM4LnqzE2B

— Wonky Badgal (@mob_ms1) January 22, 2017

Exhibit B:
There's something suspicious about that Tiffany box.
Everyone was wondering what was in the Tiffany box that Melania handed Michelle Obama… We were hoping it was this👇🏽👇🏽😂😂😂 pic.twitter.com/dcoG4Ub2US

— RogelioGarcia Lawyer (@LawyerRogelio) January 22, 2017

Exhibit C:
The Trumps' physical affection is lacking.
I'm so glad this GIF exists. pic.twitter.com/a4BNmzfa5C

— summer. (@SummerNazif) January 21, 2017

Exhibit D: 
She kinda looks miserable.
I'm not the only one bored by this parade. #FreeMelania pic.twitter.com/l2DCgcJWgN

— Michelle Kelly (@shellyellykelly) January 20, 2017
While the Trumps' lifestyle differs greatly from the average American couple, let's be real: Melania probably isn't being held hostage by her husband. In fact, the first lady has condemned her online critics in the past and has pledged to combat cyberbullying during her husband's term in office.