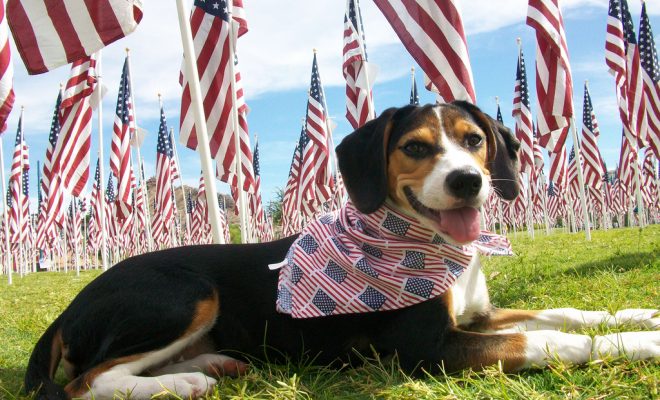 Image courtesy of Don Graham; License:  (CC BY-SA 2.0)
Humor
The Best Political Puppies of 2017 for National Puppy Day
By
|
Today is the best day of the year: #NationalPuppyDay. Puppies are great, because they a) aren't trying to take health insurance away from 24 million people b) aren't affiliated with Russia, and c) are much cuter than humans. In honor of #NationalPuppyDay, let's take a quick look at the best political puppies so far in 2017.
Senator Thom Tillis Made a New Friend

Tilly, a Boston Terrier puppy, appears to belong to one of Tillis's staffers. But she's not the only dog in Tillis's life. The senator's love of dogs is well documented. During the 2016 election he released a video of his dog, Ike Tillis, whining about Hillary Clinton, Obamacare, ISIS, and the deficit. He also encouraged his dog to vote, which is definitely not legal, but Ike is too cute for us to care.
Biden, the Puppy Who Stole Our Hearts
This is a recent addition to best political puppies of 2017. Biden, a four-month-old golden retriever puppy, got to meet Joe Biden, a human and former VP, yesterday.
It seems like they got along well:
Joe Biden met a puppy named "Biden" and the internet lost its mind https://t.co/CW9LOeryq6 pic.twitter.com/dPDnAHcgI0

— Mic (@mic) March 23, 2017
Biden the puppy probably has a long political career ahead of him.
Rep. Rick Crawford's Office Has a Maltipoo
Representative Rick Crawford, a Republican representative from Arkansas, has a puppy named Brady who greets constituents who decide to stop by the D.C. office. News of Brady's hiring broke in mid-January, and according to Crawford's office, Brady "will be handling all of our canine related policies and will be my go to pup on the #woof caucus." 
Senator Deb Fischer Adopts Fred
Nebraska Republican Senator Deb Fischer has adopted a goldendoodle named Fred. Fischer is a big time dog lover and misses her dogs back home. So, she adopted a nine-week-old goldendoodle in February, who will live with her staff members on the weekends while she's in Nebraska. Fred is all over the senator's Instagram, and clearly a very hard worker:
He's even at meetings on National Puppy Day! Good work Fred:
All of the Puppies Visit the Hill
In February, the American Society for the Prevention of Cruelty to Animals brought a bunch of puppies to the hill, all adoptable. Some representatives jumped on the chance to hang out with them. Here's Representative Lucille Roybal-Allard, a Democrat from California and her new friends:
Made some new animal friends here on the Hill thanks to the @ASPCA! I'm honored to fight in Congress for the well-being of animals. pic.twitter.com/EJjD6nB7wq

— Rep. Roybal-Allard (@RepRoybalAllard) February 15, 2017
Republican Congressman Tom Marino, from Pennsylvania, also stopped by:
Today, I stopped by the #PAWS4Love event hosted by the @ASPCA. pic.twitter.com/UoPSHbKR0C

— Rep. Tom Marino (@RepTomMarino) February 14, 2017
And Democratic Colorado Rep. Jared Polis had his dog selfies down:
Adopt a dog or cat today#paws4love @ASPCA pic.twitter.com/2idACR1OR0

— Jared Polis (@jaredpolis) February 14, 2017
The good news: nearly 20 animals (both dogs and cats) found homes during the event!