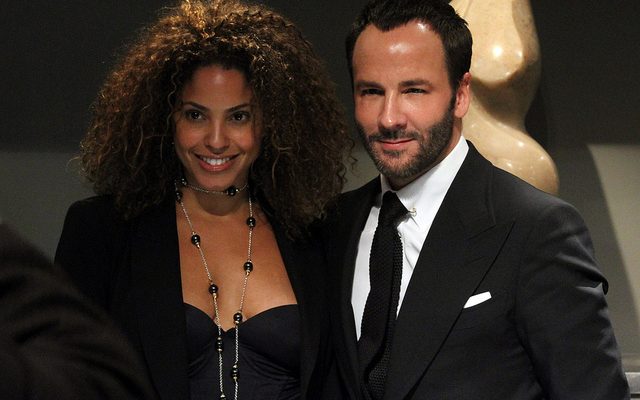 "Tonya Pittman with Tom Ford" Courtesy of noision1 : License (CC BY 2.0)
Fashion
Tom Ford Won't be Dressing Melania Trump as First Lady
By
|
Dressing the future First Lady of the United States is a privilege most fashion designers would kill for…but apparently Tom Ford isn't most fashion designers. On a recent episode of "The View," Ford revealed, "I was asked to dress her quite a few years ago, and I declined."
"She's not necessarily my image," he explained.
Ford, who identifies as a Democrat and said he voted for Hillary Clinton, said he thinks the First Lady should wear clothes that the American people can relate to, claiming that "even had Hillary won, she shouldn't be wearing my clothes. They're too expensive."
However, one of the hosts was quick to remind the 55-year-old designer that he didn't think his clothes were too expensive when he dressed First Lady Michelle Obama in 2011.
But apparently the occasion warranted an exception.
"She was going to Buckingham Palace for dinner with the queen and I thought that was appropriate," he said. "I live in London so that makes sense. And it was an honor to dress her."
After the show aired, Ford received some backlash on Twitter from users, while others applauded his stance.
trump supporters saying they're gonna boycott Tom Ford, lmao first you gotta be able to afford Tom Ford

— namith (@namithvorakkara) December 1, 2016
But does it really matter if Ford dresses her or not? Not really. There are no rules that dictate what the First Lady wears or that she must be styled by designers. Thanks to the Trump family wealth, Melania will have her pick of luxury threads (sans Sophie Theallet) to don while her husband is in office–plus she'll likely score plenty of freebies from her stepdaughter's namesake line.
Ford appeared on the talk show to promote his new film "Nocturnal Animals," a psychological thriller starring Amy Adams and Jake Gyllenhaal.
Watch Tom Ford discuss Melania, his new film, and more below: