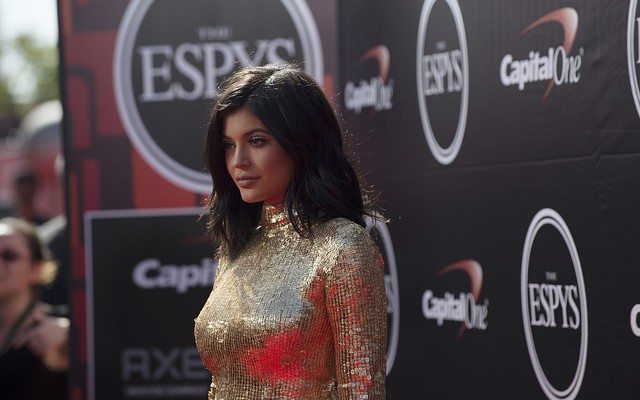 Image Courtesy of  Disney | ABC Television Group : License (CC BY-ND 2.0)
Fashion
Kylie Jenner Threatened with Lawsuit Over Holiday Promo Pics
By
|
They say imitation is the sincerest form of flattery, but makeup artist Vlada Haggerty doesn't seem to think so. After allegedly stomaching months of idea theft, Haggerty says she's ready to sue Kylie Jenner, claiming the "Keeping Up With The Kardashians" reality star copied her artwork to promote her holiday makeup line.
On November 19, the Kylie Cosmetics Twitter page posted an image of a woman with red ombre lips concealing her eyes with gold covered hands. The promo pic was meant to show off some of Jenner's newest creme shadow and lip kit shades.
Yellow Gold CRÈME shadow on hands available in the holiday collection. Left to right: MARY JO, MERRY, VIXEN ombré on the lips @MarceloCantu pic.twitter.com/05jO4qEFIH

— KYLIE COSMETICS (@kyliecosmetics) November 19, 2016

However, the image drew a striking resemblance to one that Haggerty posted on September 24 captioned "See No Evil." Haggerty, who goes by the username Vladmua on Instagram, called out Jenner and her company a week ago by posting a side-by-side of the two pics and captioning it:
Really @kyliecosmetics? Haven't you gotten enough 'inspiration' from me already? Left is a the work @juliakuzmenko, @brittrafuson and I shot a few months ago and right is @kyliecosmetics new campaign.
This is all part of a long controversy between the two that dates back to a year ago. Haggerty claims that not only has Kylie attempted to pass off her artwork as her own in the past, but the teenage entrepreneur also modeled her brand's lip logo off  Haggerty's signature melting lips.
Aside from the copycat claims, Jenner also faced backlash over defective lip gloss wands and overpricing, and was even accused of rebranding ColourPop's matte liquid lipsticks formula as her own.
Photographer Julia Kuzmenko McKim, who captured Haggerty's "See No Evil" image explained the concept of the photoshoot in a lengthy blog post. McKim wrote, "It breaks my heart to see how large brands take independent, unprotected artists' work and use them to multiply their wealth. In an ideal world, big brands would easily prevent such backlashes by hiring the artists who have already created something that they would love for their own campaign."
Kylie Cosmetics has not yet commented on the threat of legal action, but some experts say the lawsuit will likely be a dud. Since ideas aren't legally protected, Jenner would need to have used the exact same image as Haggerty for there to be a real case.