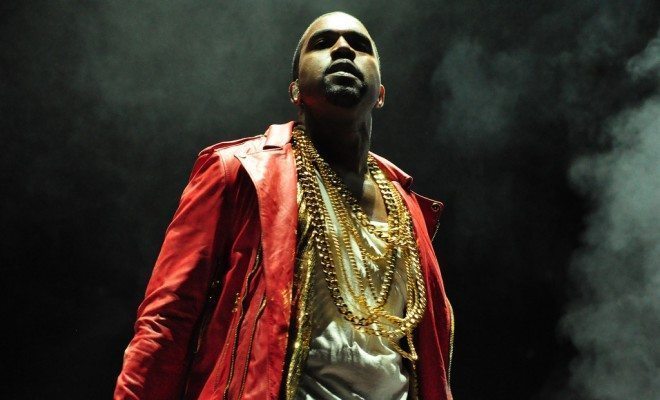 Image courtesy of [rodrigoferrari via Flickr]
Fashion
Kanye Threatens to Sue Models if They Talk About Him or Kim During NYFW
By
|
The Kardashians. Whether you love to hate them, or hate to love them, one thing is for sure–you just can't stop talking about them. But if you're tall, beautiful, and coincidentally a model walking in Kanye West's New York Fashion Week (NYFW) show you might want to hold off on any K-clan gossiping you have planned, because it could end up being a $10 million mistake.
According to the Mirror, the 38-year-old rapper/designer/T-Swift interrupter required all models in his Yeezy Season 2 show to sign non-disclosure agreements effectively banning them from talking about him, Kim, or any other member of the Kardashian-West family.
Kanye isn't playing games with Yeezy Season 2: http://t.co/ZHPrh9Aoxo pic.twitter.com/9LD3tRWzsg

— Complex Style (@ComplexStyle) September 16, 2015
According to one Mirror source,
Kanye's hacked off some really high-profile models by asking them to sign the agreement, particularly because it stated that he could sue them for up to $10 million if they spoke out about him.
Some of the models flat out refused, saying they'd rather not be associated with him and his "media frenzy." Others reluctantly signed.
This isn't the first time West or the Kardashians have required their "people" to sign non-disclosure agreements. Take Kim and Kanye's $12 million Italian wedding, for example. Not wanting to ruin their E! wedding special, all guests in attendance were obligated to sign confidentiality agreements and have their phones confiscated in order to keep their nuptials private and out of the media's hands.
However, the models weren't the only ones pissed at West over his NYFW antics–some of his fellow designers, specifically Anna Bowen, were too. Earlier that week Bowen blasted West, calling him "unethical" for forcing her to reschedule her show after he added his last minute to the packed runway schedule. West slated his buzzworthy presentation for the same time as Bowen's, which pressured her into moving her show or risk no one showing up.
She told Women's Wear Daily,
Kanye knows he is a media sensation and it is just not ethical to do this. It's like we are David and he is Goliath. […]

We have put our heart and soul into our show, and should not be stepped on like this. Our show date has been scheduled for months and we have to move our date, which is a logistical nightmare.
So in other words Kanye effectively pissed off NYFW designers and models in one fell swoop. Who knows, the confidentiality agreements may just be a scare tactic. Hell, I wouldn't be surprised if this was just one big tactfully planned publicity stunt by Ye's camp aimed to bring more eyes to his last minute submission. Conspiracy theories aside, I will admit that it is slightly odd to see a family that has amassed so much of their wealth by living in the public eye try to retain anything private.