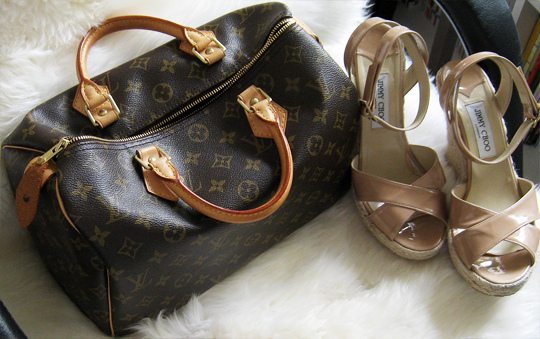 Image courtesy of [Maegan Tintari via Flickr]
Fashion
Holiday Gift Guide: How to Authenticate a Designer Handbag
By
|
Last week I told you about the $22 million counterfeit operation busted in Queens. So now you might be asking yourself: If getting your "designer" handbags from Canal street is such a big no-no then where should I get my holiday gifts at a reasonable price? Never fear, it's almost 2015 and there is now a plethora of consignment sites to get your second-hand designer goods. But as great as sites like Ebay, Amazon, and the new Alibaba are, sometimes sellers aren't always honest when they claim their items are authentic. So to make sure that you don't get duped (like my poor brother did when he ordered those fake Nikes from China) I've put together a handy guide on how to spot a fake. Whether you're giving or getting one this season, here's all you need to know about how to properly authenticate a designer handbag.
Chanel
Remember when I told you that I've had family members gift me fake bags in the past? When I was in high school, my aunt gave me a Chanel Grand Shopping Tote. I thought it was cool until I found some irregular stitching and a defect in the "leather." However, there are a few other tell-tale signs aside from the obvious ones. When it comes to the flap bag, the quilting should properly line up when the bag is closed. The biggest giveaway can also be simply the leather itself; the lambskin should feel buttery smooth and not waxy. Also, every bag made after 1985 should have a label with a specific serial number inside.
Hermès
The most coveted bag in fashion history, people will do anything to get their hands on an Hermès Birkin bag. With a retail price of up to $150,000, the Birkin bag has a high resale rate, so it only follows that there are a lot of fakes floating around out there too. The easiest thing to look for is the bag's lock spindle, as it should turn around smoothly, and should not be bumpy or grainy. The logo should also read Hermès-Paris with a dash, as opposed to an underscore. In the video below, Tammy Flehr-Gates from Michael's consignment shop on the Upper East Side gives more tips on how to spot a fake Birkin.
Louis Vuitton
For any Vuitton bag, I reiterate the importance of checking that the leather is dry because if it's waxy, sorry, but it's probably not even leather to begin with. More specifically, the Neverfull's strap should be exactly 3/8″ in width. Any larger is a sign that the bag is made of poor material, so it needs a thick strap to withstand any weight. Vuitton is also famous for its various collaborations, like with Japanese artist Takashi Murakami. The infamous multi-colored Speedy features exactly 33 colors, so any less and it's cheap, lazy imitation. The cherry blossom Speedy also has a sneaky feature that an amateur counterfeiter would never know about; the inside should say "Made in Japan." Although Vuitton bags are typically made in France, this particular collaboration was made in Japan. If it says "Made in France" on a cherry blossom Speedy, it probably wasn't made there, or even in Japan for that matter.
Balenciaga
My personal favorite, the City Bag, is pretty easy to authenticate. Since it features so much metal hardware, the first thing you should check for is if they're heavy and not hollow-feeling. The O-rings on all the zipper pulls will also be soldered closed. Rivets have two rectangular notches in them and the straps should be smooth with absolutely no bumps. Also you won't ever find your average YKK zipper on a Balenciaga, as they only use Lampo zippers on their bags.