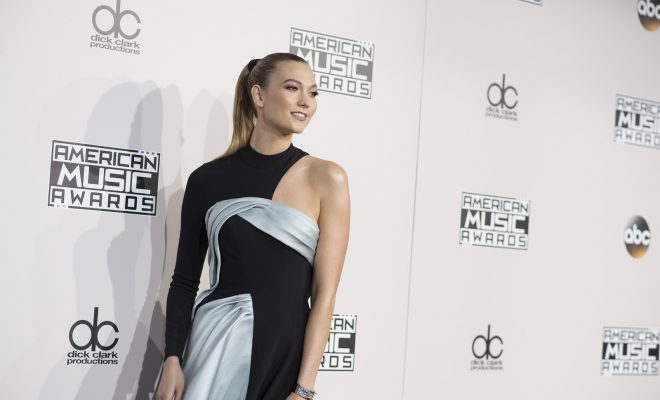 Image courtesy of Disney | ABC Television Group; license: (CC BY-ND 2.0)
Fashion
Karlie Kloss and Vogue Slammed for Cultural Appropriation in Photo Shoot
By
|
American model Karlie Kloss came under fire on Wednesday because of a photo shoot in the March issue of Vogue, which was dubbed the "diversity issue." In the photos, Kloss appeared as an Asian woman in a Japanese-themed shoot. People on social media were swift to criticize her and the magazine, accusing them of cultural appropriation.
Hey, Vogue: Embracing diversity does not mean styling Karlie Kloss as a geisha https://t.co/GnW04ejz4v pic.twitter.com/LZSQzIF3eb

— The Cut (@TheCut) February 14, 2017
The photo shoot was reportedly a tribute to Richard Avedon's famous shoot in 1966, in which he photographed German model Veruschka in Japan wearing exclusive furs. This time, photographer Mikael Jansson photographed Kloss in Japan, dressed in a traditional kimono and wearing a black wig. In one of the photos she poses next to a sumo wrestler. In another, she pumps water from an old-fashioned well.
Emma Stone, Scarlett Johansson, and Tilda Swinton turn to Karlie Kloss. "Your turn, girl."

Karlie on phone: "Hello, Vogue? Make me Asian." pic.twitter.com/zgUWIB022Q

— Ira Madison III (@ira) February 14, 2017
But, you would think that if the point of having a diversity issue is to show the diversity of women in fashion and in the world, maybe it would make more sense to cast an Asian model in this role.
This is why Vogue is cancelled. Their idea of "edgy" is hiring white people to imitate other races instead of just hiring diverse models. https://t.co/29lUkHfjLn

— The Glossier (@theglossier) February 14, 2017
But it seems like the people at Vogue didn't think about that.
IDAF this was an homage to a 1966 Vogue shoot. Sure, take the visual inspiration—Don't copy the dusty cultural insensitivty from 50 yrs ago https://t.co/gBOKbRugEq

— Chin Lu 呂錦華 (@ChinHuaLu) February 14, 2017
Kloss later apologized through her Twitter account, and Vogue removed the pictures from its website.
— Karlie Kloss (@karliekloss) February 15, 2017
Cultural appropriation in fashion is a common phenomenon, and it's not the first time Kloss has been involved in a controversy of this kind. In 2012 the blonde and blue-eyed model walked the runway at the Victoria's Secret Fashion Show wearing a Native American-inspired headdress and fringe. The company and Kloss faced backlash immediately. Native Appropriations, a website that is dedicated to countering stereotypes of Native American Indians, Alaskans, and Hawaiians, called out Victoria's Secret for the costumes, and the company and Kloss both issued statements with apologies.
6.)
Karlie Kloss wearing a traditional Native American Headdress, representing November, for the 'Calendar Girls' segment at VSFS 2012 pic.twitter.com/WP3VdOb9XE

— daphne (@voguejupiter) December 6, 2016
There have been other recent incidents that garnered criticism for casting white women in Asian roles. In November, the movie "Doctor Strange" premiered with white, British actress Tilda Swinton in the role of a character that originally was meant to be an older, Tibetan man. The movie "Ghost in the Shell" was accused of whitewashing as Scarlett Johansson was cast as leading role in a remake of a classic manga movie. And in the summer of 2015, white actress Emma Stone played a character who is part-Asian in Cameron Crowe's flick "Aloha."
It's probably high time for Hollywood and the fashion world to start thinking about how to increase actual diversity.