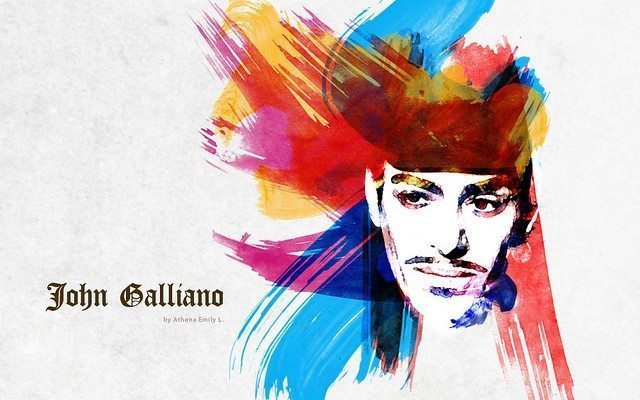 Image courtesy of [ [ A E ] via Flickr]
Fashion
Is the Fashion Industry Ready to Forgive Anti-Semite John Galliano?
By
|
On Monday, Parisian fashion house Maison Martin Margiela announced that industry pariah John Galliano would take over as its new creative director. The former creative director of Dior has been attempting to make a comeback since he was caught on film going on an anti-Semitic rant back in 2011. Subsequently, Galliano was dismissed from his positions at both Dior and his own namesake line. But now that he's back in the couture game, everyone can't help but ask the age-old question: is it possible to separate art from the artist?
One of the most ubiquitous examples of a controversial man behind beautiful works is Woody Allen. There's no arguing the classic status of Allen's films but — especially recently when Dylan Farrow finally spoke out about her estranged father molesting her — people sometimes have trouble appreciating them knowing that a man with a weird fetish for underaged girls is the brain behind the masterpiece. That said, will the industry be able to forget, but maybe not necessarily forgive, Galliano's transgressions come next couture season?
Galliano is hardly the only controversial figure in the industry. Fellow couturier Karl Lagerfeld is notorious for his sexist actions from his recent faux-feminist show to comments he's made about women's bodies like the singer Adele. But not everyone can get away with such aloof behavior. Activewear brand Lululemon's CEO Chip Wilson resigned shortly after coming under fire for a comment he made about some women being too fat to properly fit into his leggings, and let's not forget about American Apparel founder Dov Charney finally getting his just deserts for sexually harassing employees.
However, in the case of Galliano and Lagerfeld, as unacceptable as their behavior is they never physically hurt anyone like alleged sexual offenders Dov Charney and Woody Allen. So there aren't necessarily any laws against such bigoted actions.
Ultimately, artistic minds like Galliano's and Lagerfeld's are very different from the average person's in that they may not always be aware of the social ramifications of their actions. I'm not trying to excuse their behavior by any means. But whenever I hear Lagerfeld say ridiculous things about women I can't help but roll my eyes and chuckle a little, because I know he has absolutely no perception of the real world. Galliano also allegedly blamed his abuse of alcoholism and drug abuse (which definitely fueled his inappropriate rants) on the pressures of running two couture houses. These artists tend to live in their own bubbles, only interacting with a select few people who let them get away with their odd behavior, because they are the genius masterminds who pay their paychecks. Quirky artists have the potential to offer so much joy in our lives, but sometimes you may have to look past their odd behavior and just appreciate their work for what it is.
Since getting the boot from the industry, Galliano has attempted to make his way back in. He tried a residency at Oscar de la Renta and a guest professorship at Parsons the New School for Design, but all have fallen through because the public was still not ready to forgive him. So is the industry ready for Galliano to return to the couture scene? Only time will tell.