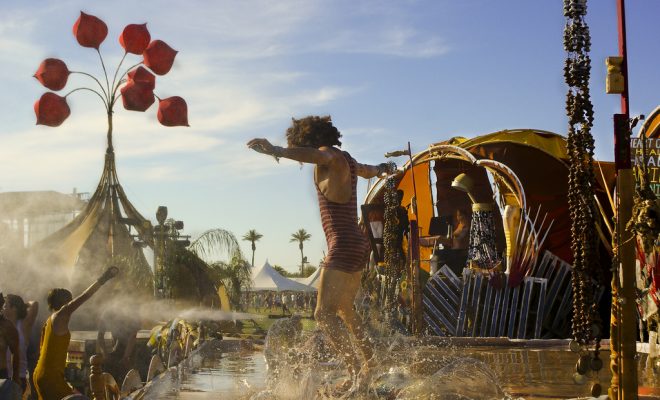 "Coachella times" courtesy of Miguel Noriega; license: (CC BY 2.0)
Fashion
Coachella Sues Urban Outfitters For Trademark Infringement
By
|
Coachella and Urban Outfitters are locked in the ultimate hipster battle over trademark infringement. On Tuesday, Coachella Valley Music and Arts Festival and its promoter Goldenvoice filed a lawsuit against the clothing retailer. The suit claims that Urban Outfitters has been selling clothes using the festival's name and trademark design through its line Free People.
According to the lawsuit, at least four products have been marketed using the "Coachella Marks," which amounts to unfair competition since they are "directly competitive with those offered by Coachella." The suit described Urban Outfitters' style philosophy as "bohemian, hipster, ironically humorous, kitschy, retro and vintage." Many would say that this style is exactly how they think a music festival goer would dress. But that doesn't mean Urban Outfitters is free to use a specific festival's name for marketing purposes.
One example the lawsuit mentions is the so-called "Coachella Valley Tunic" which was described on Free People's website as "the quintessential summer musical festival piece to throw on and go with." That specific page has since been taken down. Urban Outfitters also allegedly had a whole line called Coachella Bella that was sold by several major retailers such as Macy's and Amazon.
billboard: #Coachella festival sues Urban Outfitters for trademark infringement https://t.co/cpY6oyXlwi pic.twitter.com/RZ2H5LiQsB

— LiveShed (@LiveShedInc) March 17, 2017
And it doesn't even end there–according to the suit, Urban has bought some keyword ads from Google, which means that if someone googles the word Coachella, products from Urban could pop up. Coachella has apparently made several demands, including a cease-and-desist letter, that Urban stop using its name, to no effect. The festival said it's very selective with its licensing agreements and that it already has one with clothing giant H&M.
Coachella came under fire recently when it was revealed that owner Phil Anschutz has given a lot of money to organizations that oppose same-sex marriage, compulsory unionism in workplaces, and global warming science. He has also sued the IRS several times to get out of having to pay taxes.
But Urban is not that innocent either. The company has been sued for using other names as well as designs without permission before. In 2012, it was sued for branding products "Navajo" without having anything to do with the actual Navajo Nation. That case wasn't settled until November 2016.
Neither Coachella nor Urban Outfitters have offered any public comments about the lawsuit at this time.