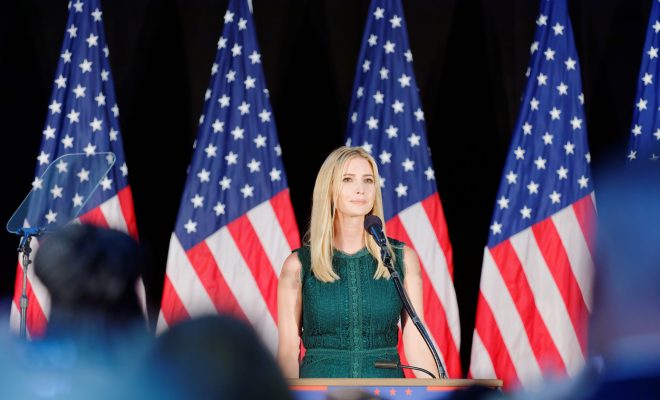 "Ivanka Trump" courtesy of Michael Vadon, license: (CC BY 2.0)
Fashion
Activists Investigating Factory Used for Ivanka Trump's Brand Are Missing
By
|
Two Chinese labor activists investigating a factory that produces shoes for Ivanka Trump's brand have gone missing, and a third was recently arrested. The three men work for China Labor Watch and were looking into the alleged abuse of workers at the Huajian International shoe factory. The group is based in New York but focuses on workers' rights in China.
According to the Associated Press, Hua Haifeng was arrested for illegal surveillance after working undercover at the factory since April. The group lost touch with the other two men, Li Zhao and Su Heng, over the weekend. The parent company of the particular factory, Huajian Group, produces between 10,000 and 20,000 shoes for Ivanka's brand every year. It also makes shoes for brands like Coach and Nine West.
According to the director of China Labor Watch, Li Qiang, his employees found evidence that workers were forced to work overtime without pay, and that workers who left were fired. They also could be fired if they took sick leave, and were forced to sign false time sheets.
JUST IN: One arrested, two missing after investigating working conditions at Ivanka Trump shoe factory in China https://t.co/nB6f48k2eh pic.twitter.com/OzCQjJjIFF

— The Hill (@thehill) May 30, 2017
Chinese police claimed that the men had used illegal surveillance technology, but according to Li Qiang they just used their cellphones to shoot video. He said he thinks the police are protecting the factory since it is affiliated with the U.S. president's daughter, considering he has investigated hundreds of Chinese factories before without any incident like this.
The wife of the man who was arrested said that she received a phone call from the police saying that Hua had been detained, and that she didn't need to know anything more than that. "I understand and support my husband's work," she said. "I feel his work is legal and meaningful, so why should they arrest him?"
Li Qiang said that his company was planning on releasing a report on the factory next month. The Democratic National Committee responded to the news by releasing a statement calling for the White House to act on China's human rights abuses:
We deeply hope that these detained or missing human rights workers are safe and can be reunited with their families as soon as possible. For years, Ivanka Trump has ignored public reports of awful labor conditions at a factory that makes her shoes. Now, she must decide whether she can ignore the Chinese government's apparent attempt to silence an investigation into those worker abuses.