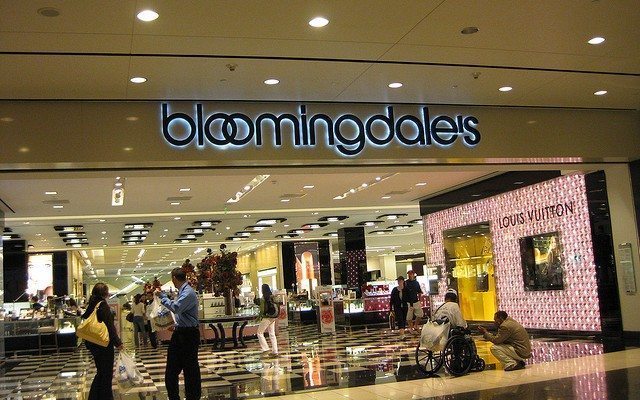 Image Courtesy of [Rose Trinh via Flickr]
Fashion
Bloomingdale's Holiday Ad Suggested Spiking Woman's Eggnog
By
|
Someone on Bloomingdale's marketing team is probably banging their head against something hard right about now. Why? Well, the luxury department store made a colossal mistake in its recent catalog with a holiday ad that appears to suggest men should date rape their friends this holiday.
The ad, which promoted Rebecca Minkoff merchandise, depicted a well dressed man glaring at a woman who appears not to notice him, with the caption "spike your best friend's eggnog when they're not looking."
Many Furious After Bloomingdale's Ad Encourages Men To "Spike Your Best Friend's Egg Nog" https://t.co/Cj70fjq6OH pic.twitter.com/qGErn3MhAC

— BuzzFeed News (@BuzzFeedNews) November 11, 2015
It didn't take long before people began bashing the franchise, saying the language of the ad condoned sexual assault and rape.
Fascinated that throughout the editing process, nobody suggested this Christmas ad is a bad idea #Bloomingdales pic.twitter.com/zUaNJnlK7y

— Lara DiamondPhillips (@Laradp) November 11, 2015
Here's Bloomingdales advertising festive date rape and non-consensual drug abuse to sell fashion. Stay classy. pic.twitter.com/7KiPxmyB02 — Jack Monroe (@DrJackMonroe) November 11, 2015
In case it needs saying, DO NOT SPIKE YOUR BEST FRIEND'S EGGNOG. OR ANYONE'S EGGNOG. OR ANYONE'S DRINKS. EVER. #Bloomingdales

— Jack Monroe (@DrJackMonroe) November 11, 2015
C'mon everyone, ideas time: what do ppl love about Xmas? Oooh, chances for festively themed rape? #Bloomingdales pic.twitter.com/dwzLzO3wzJ — Addy (@adriana_lowe) November 11, 2015
#Bloomingdales says to spike a friend's eggnog when they're not looking. Horrific and offensive. Especially if it's in a plain red cup.

— Brian Rush (@BrianRushNYC) November 11, 2015
After realizing its terribly dumb mistake, Bloomingdale's quickly started apologizing, but some users demanded the company prove its remorse by showing support for rape prevention organizations. Unfortunately since the ad had already been printed and sent out, there is no formal retraction process to help stifle the backlash. 
@Bloomingdales if you're genuinely sorry, donate profits to a rape crisis centre. — Vicki Lamb (@vix_lamb) November 11, 2015

Most likely Bloomingdale's won't go the extra mile by suddenly supporting sexual assault causes, but holding itself accountable is a good first step. It's important to remember that these companies should be held to a very high standard, especially when the language they are advertising could possibly promote violence.