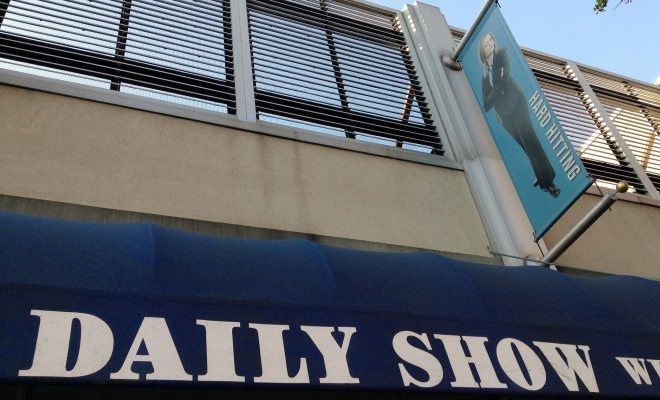 Image courtesy of [Lorianne DiSabato via Flickr]
Entertainment
"The Daily Show" Barred From Iowa GOP Event: Trevor Noah Fights Back
By
|
"The Daily Show's" new host, Trevor Noah, has made an enemy: Jeff Kaufmann, the chairman of the Republican Party of Iowa. Kaufmann denied "The Daily Show" press credentials to attend the Iowa Growth and Opportunity Party, and in the process, inspired Noah's comedic wrath. In fact, Noah pretty much lambasted him on the show last night–check out the full clip below:
Then, "The Daily Show" correspondent who would have been the one covering the event joined Noah to poke fun at Kaufmann.
The reason that Kaufmann gave for the denial of "The Daily Show's" press credentials was that he was concerned the comedy news show would make fun of the state of Iowa. But Noah's attack accused him of a more duplicitous motive, stating that Kaufmann:
Shouldn't hide behind Iowa when the things you really don't want people to make fun of are pretty obvious here. You don't want people making fun of your terrible candidates and your ridiculous event.
But, as Noah pointed out, not inviting "The Daily Show" won't keep the satirical show from poking fun. In fact, Noah delivered some blistering jokes about the event, including a jab about a Hillary Clinton scarecrow that was on display.
Trevor Noah on Iowa Hillary scarecrow: "If you want a fake empty Hillary Clinton you should just use Carly Fiorina." pic.twitter.com/tZFCES32tJ

— Ryan Adams (@filmystic) November 4, 2015
Noah also created a mocking event on Facebook–"The Daily Show's Official Jeff Kauffman-less Blowout." The event description includes the following:
The Daily Show with Trevor Noah is having a party, and everyone but Jeff Kaufmann is invited!
That's right, anybody can come! As long as you aren't Iowa GOP Chairman Jeff Kaufmann. If you are Jeff Kaufmann, you will be asked to leave.

Party schedule:
6pm – 7pm: Eating all Jeff Kaufmann's favorite foods
7pm – 11pm: Talking smack about Jeff Kaufmann
11pm – 12am: All Jeff Kaufmann's most embarrassing stories, told by Jeff Kaufmann's friends and family
"The Daily Show" is certain to continue to make fun of the GOP field, and the GOP as a whole, through the 2016 campaign. But on Kaufmann's part, denying the press credentials was probably a bad move, because it gave Noah especially easy and hilarious fodder.