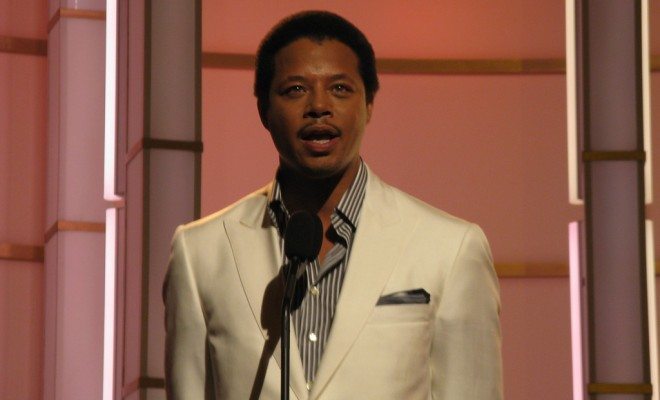 Image courtesy of [vipnyc via Flickr]
Entertainment
Terrence Howard Reveals Domestic Violence: Do Black Men Support Black Women?
By
|
Earlier this week, "Empire" star Terrance Howard confessed that he hit his first ex-wife, describing that he "lost his mind" and "slapped her in front of the kids." This confession isn't exactly coming out of left field. Over the last couple of years in his various marriages, Howard has been accused of slapping, punching, and strangling his partners, living up the dark nature of his character on "Empire," Lucious Lyon. Howard attempted to justify his deplorable, violent behavior with his first wife Lori McCommas by saying that she was talking to him "real strong." With his second wife, Michelle Ghent, Howard claims that she tried to "mace him" and that he didn't mean to hurt her, he was just trying to get her away. Howard's relationship with his most recent wife, Mira Pak, appeared to be healthy and strong, until she mysteriously filed for divorce earlier this year.
Although Howard's relationships have all been multi-cultural, this situation still brings up important issues of black love and the relationship between black men and women. The media's coverage of black celebrity figures' violence against women opens up different conversations about dynamics within relationships, but black relationships are the least discussed.
But they shouldn't be. Black women have notoriously been at the forefront of movements standing up for issues that plague black men. Black women have historically fiercely defended the rights and desires of black men. During the civil rights movement it was women–wives, daughters, sisters, cousins, mothers, and grandmothers–who stood up for not only their own issues but those of their brothers, friends, fathers, and husbands. During the 1992 Rodney King riots, we saw black women weeping for black men, and accepting the harsh reality that the police were their enemy. Even now with the Black Lives Matter movement, we see black women leading the charge to remedy this social issue that directly attacks black men. Black women have taken on the social issues that have plagued black men for the last couple of decades.
However, this support is not reciprocated. Hardly ever do you see black men standing up for issues regarding and experienced by black women. Black men often do not speak up for issues of beauty, professional advancement, abuse, assault, and general vulnerabilities that are unique to the black female community.
Thankfully, we are starting to see a shift in a lack of misrepresentation of black women in the media. Viola Davis, star of the thrilling ABC television series "How to Get Away with Murder," just won an Emmy for her incredible portrayal of her character, Annalise Keating, giving a spectacular speech on the difficulties and lack of opportunities black women face. Taraji P. Henson, Kerry Washington, and Megan Good are also changing the game, proving that black women are leading women too. This positive representation directly affects black relationships and love. The more it is widely understood that black women are real, strong people who are overcoming yet still dealing with issues that are a part of their identity, the quality of these relationships and communication within them will be transformed. The media plays such a pivotal role in this transformation, and it is so exciting seeing the growth of positive representation of black women in television and film, regardless of the actions of some of Hollywood's leading men like Terrence Howard.
Hopefully this growth will motivate black men to act proactively in supporting the advance of black women in society. It is going to take more than black women speaking up to start to change the nature of not only black relationships, but society in general. Silence and inaction is the equivalent of destruction. Support can only lead to success for all.