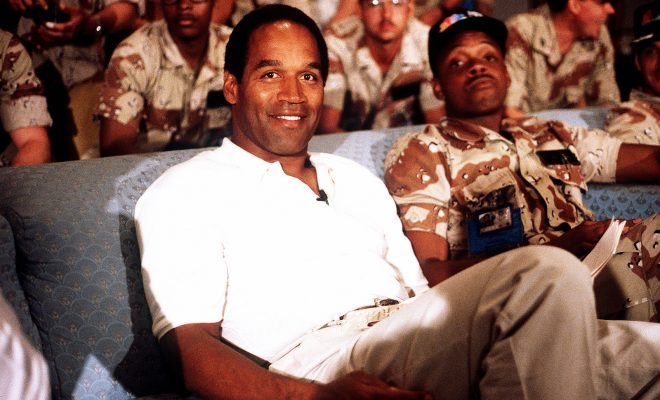 "O.J. Simpson" Image courtesy of Gerald Johnson. License: public domain
Entertainment
OJ Will Be Free: Here's What You Need to Know
By
|
Orenthal James "OJ" Simpson, the Hall of Fame NFL running back who was once lauded for his speed and ability to escape defenders on the field is now equally as recognizable for his ability to escape lengthy prison sentences.
On Thursday, a Nevada Parole Board unanimously voted 4-0 in favor of granting OJ Simpson an early release on his 33-year sentence for a bizarre incident that took place in a Las Vegas hotel in 2007. Simpson, along with other armed men, attempted to reclaim sports memorabilia items that he claimed were stolen from him. Simpson was convicted of armed robbery, attempted kidnapping, and assault in 2008 and is set to be released as early as October 1.
But Simpson is far more notorious for his involvement in what was known as "the trial of the century. " He was accused and eventually acquitted of murdering his ex-wife Nicole Brown Simpson and her friend Ron Goldman in Nicole's home in Brentwood, California in June of 1994.
Tony Corda, one of the parole commissioners on the hearing, cited as his reasoning that Simpson was at "low risk to re-offend" and the board felt that he had served enough time based on his criminal actions as well as his good behavior in prison.
During his hearing Simpson expressed remorse for his actions, saying: "I am sorry the things turned out the way they did…I had no intention to commit a crime." But Simpson also expressed that he felt that he had served his time and that he deserved to become a free man.
So what are the legal ramifications for Simpson's parole? His parole will likely be set to expire on September 29, 2022. Based on Nevada law he must submit written reports to his parole officer every month, and he will be subjected to random drug and alcohol screenings. If he violates the terms of his parole in any way he can be sent back to prison.
He did indicate to the parole board during his hearing that if granted parole he wished to return to his home state of Florida, saying: "I can easily stay in Nevada, but I don't think you guys want me here,"
Whether this request will be granted or not depends on a couple of factors. Florida has to first confirm that Simpson is eligible to complete parole in the state, and he needs to have an approved place to live. The home that he bought in Miami in 2000 was foreclosed upon in 2012, so that seems like an unlikely destination for now.
But money shouldn't be a big problem for Simpson, despite the fact that he is still responsible for paying damages from a multi-million dollar lawsuit to Ron Goldman's family. He is still receiving his NFL pension. Based on his time in the NFL, ESPN estimated that OJ could have made up to $600,000 while in prison.
Simpson had managed to live a relatively media-free life since his conviction, but after the release of two enormously successful television series based on his life, he has been thrust back into the pop culture news scene. So when word broke that Simpson will be getting out of prison, social media exploded:
OJ Granted Parole! @RealDonaldTrump, You got a position for OJ in your Administration. This Murderer is gonna need a job! #OJSimpsonParole pic.twitter.com/7nF6si1Izx

— stacey roberts (@1sroberts) July 20, 2017
OJ Simpson has been granted parole. As awful as it is, the board had to follow the law + not consider past behavior he wasn't convicted for

— Yashar Ali (@yashar) July 20, 2017
POLL: Should OJ Simpson be granted parole? 888-788-9910 #ToddStarnesShow #OJSimpsonParole

— toddstarnes (@toddstarnes) July 20, 2017