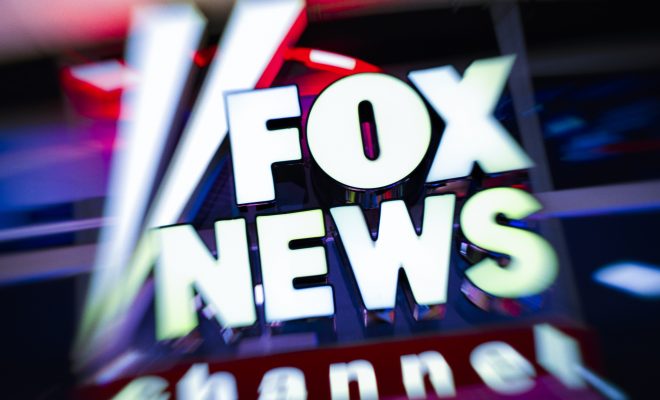 "Fox News" Courtesy of Johnny Silvercloud: License (CC BY-SA 2.0)
Entertainment
"Fair and Balanced" Slogan Out at Fox News: What's Next?
By
|
Fox News started making moves to drop its well-known slogan "Fair and Balanced" from programming last year. The network has since instructed producers, hosts, and reporters to only refer to the network's other slogan: "Most Watched, Most Trusted." According to a source at the company, a new slogan could be coming soon.
The change was first noted by Roger Ailes' biographer in a story in New York Magazine. According to the Fox News' statement on the slogan, the change was not prompted by editorial or a programming decision. Rather, insiders believe the move was made to further distance the company from the legacy of Roger Ailes, who created the iconic slogan back in 1996. Ailes was ousted from Fox News last year after accusations of sexual harassment while working at the company. The network stopped using the phrase shortly after Ailes left his position as CEO of the network.
For Ailes and Fox, the "Fair and Balanced" slogan was a sort of doctrine, and a huge part of company culture. Ailes would host meetings and seminars based around the slogan, and would not hire reporters if he felt they didn't come across as "fair and balanced" in his eyes. Most importantly, it gave the appearance to those who watched the network that both sides were being heard while still producing conservative-leaning content.
While the phrase may have shaped the modern cable landscape as we see it today, that hasn't stopped Twitter from having a ball (as per usual) with the fact that Fox News will no longer be calling itself "Fair and Balanced."
Fox News is apparently ditching the "fair and balanced" bit and going with something more nuanced. pic.twitter.com/xysOUMVlx6

— TK (@TKhatesyou) June 14, 2017
If a fig leaf falls in a forest and no one is around to hear it, does it make a sound? https://t.co/smvjLrKWkZ

— Keith Olbermann (@KeithOlbermann) June 14, 2017
Fox News saying they are no longer "fair and balanced" is like McDonalds saying they are no longer "healthy".

It was never the case, kids.

— TrumpsTaxes (@TrumpsTaxes) June 14, 2017