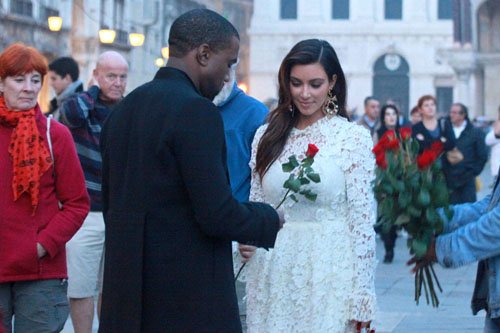 Image courtesy of [Alexis via Flickr]
Entertainment
Kim Kardashian Robbed at Gunpoint in Paris
By
|
On Sunday night Kim Kardashian was robbed at gunpoint in her hotel room in Paris; she was there to attend Fashion Week. The robbers, who were wearing masks and were dressed as police officers, stole jewelry totaling $10 million.
Kardashian was staying at a nine-apartment mansion that is often frequented by celebrities like Madonna and Leonardo DiCaprio. Around 2:30 AM on Sunday, the concierge let a couple of men in. They then threatened him with a gun, handcuffed him, and made him take them to Kardashian's apartment, where they tied her up in the bathroom while holding a gun to her head. After going through her jewelry, they left. Allegedly her stylist managed to alert the real police, who later found the night guard in a staircase with hands and feet bound.
Kim was shaken but physically okay, according to a statement from her spokeswoman. Her children were not in the apartment. She later left Paris on her private jet and flew home to New York.
On Sunday night, her husband Kanye West cut his show at Meadows Music and Arts Festival in New York short with the words "I'm sorry, family emergency, I have to stop the show." Fans initially reacted with confusion and anger.
Here's a photo of Kanye West's show right before it ended. Like everyone was shock it just ended. No reason given, just "family emergency." pic.twitter.com/y4Rfk5n3h9

— Frank Pallotta (@frankpallotta) October 3, 2016
Last week was not an easy one for Kim Kardashian West. She was the recipient of a prank by internet celebrity prankster Vitalii Sediuk, who tried to kiss her butt when she exited her car. Her bodyguard quickly wrestled him to the ground, but she said she wants to file a report and get a restraining order. Apparently Sediuk was protesting plastic surgery and wanted the Kardashians to promote a more natural look for the millions of young girls who look up to them.
As news of the robbery broke on Monday morning, the internet started reacting not with compassion, but with mockery.
Kim Kardashian gets robbed and the whole world is in an uproar.

Harambe was brutally murdered and the world was silent.

— ædonis | hotep (@lordaedonis) October 3, 2016
Luckily, tweets defending Kim later surfaced on social media, pointing out how bizarre it is to make fun of someone being robbed just because she's a celebrity.
People making jokes about @KimKardashian tonight would do well to remember that she's a mother,a daughter,a wife,a friend.Be nice or shut up

— James Corden (@JKCorden) October 3, 2016
Kinda loving @kanyewest for jumping off that stage for his wife… yes sir… love that. Family first.

— Jaime Primak (@JaimePrimak) October 3, 2016
Don't make memes out of Kim Kardashian being robbed at gunpoint it really isn't funny. One click and 2 kids could've been motherless

— Girls be like… (@girlhoodposts) October 3, 2016