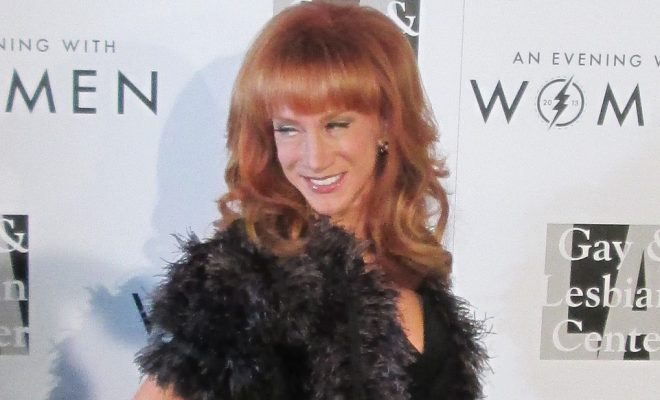 Image Courtesy of Disney | ABC Television Group : License (CC BY-ND 2.0)
Entertainment
Kathy Griffin Apologizes for Bloody Anti-Trump Photo Shoot
By
|
Kathy Griffin apologized for going "way too far," after a photo surfaced online of the comedian posing with a bloodied decapitated head, modeled to look like President Donald Trump. In a 30-second video posted to Twitter late Tuesday, Griffin said that she "sincerely" apologizes.
"I'm a comic," she said. "I cross the line. I move the line, then I cross it. I went way too far. The image is too disturbing. I understand how it offends people. It wasn't funny. I get it…I am going to ask the photographer to take the image. I went too far. I made a mistake and I was wrong."
I am sorry. I went too far. I was wrong. pic.twitter.com/LBKvqf9xFB

— Kathy Griffin (@kathygriffin) May 30, 2017
The images leaked to TMZ were shot by controversial photographer Tyler Shields. Griffin was reportedly inspired by a 2011 episode of "Game of Thrones," which featured a severed head modeled after former President George W. Bush.
Griffin initially defended the photo, likening it to Trump's controversial comments about Megyn Kelly's menstrual cycle.
"1/ I caption this "there was blood coming out of his eyes, blood coming out of his…wherever" Also @tylershields great Photog/film maker," she wrote. "2/ OBVIOUSLY, I do not condone ANY violence by my fans or others to anyone, ever! I'm merely mocking the Mocker in Chief."
According to TMZ, Griffin even "joked that she and Tyler would need to move to Mexico once the pics got released, for fear they'd be thrown in prison," during the photo shoot.
Trump responded to the image Wednesday morning on Twitter, saying Griffin "should be ashamed of herself," and that Barron was "having a hard time with this."
Kathy Griffin should be ashamed of herself. My children, especially my 11 year old son, Barron, are having a hard time with this. Sick!

— Donald J. Trump (@realDonaldTrump) May 31, 2017
The first lady also had some choice words for the comedian.
"As a mother, a wife, and a human being, that photo is very disturbing," Melania Trump said in a statement. "When you consider some of the atrocities happening in the world today, a photo opportunity like this is simply wrong and makes you wonder about the mental health of the person who did it."
The image managed to unite much of the country, receiving bipartisan outrage on social media.
This is vile and wrong. It is never funny to joke about killing a president. https://t.co/zIiuKoMyFw

— Chelsea Clinton (@ChelseaClinton) May 30, 2017
Disgusting but not surprising. This is the left today. They consider this acceptable. Imagine a conservative did this to Obama as POTUS? https://t.co/QdghcbIjS7

— Donald Trump Jr. (@DonaldJTrumpJr) May 30, 2017
This Kathy Griffin thing is so upsetting and disgusting. Jesus–what is wrong with people today? Have we lost all our humanity?

— Soledad O'Brien (@soledadobrien) May 30, 2017
All of it frankly makes me sick. And seeing these actions only through a lens of partisanship or self is bizarre to me.

— Jake Tapper (@jaketapper) May 31, 2017
Our politics have become too base, too low, & too vulgar, but Kathy Griffin's post descends into an even more repugnant & vile territory.

— Mitt Romney (@MittRomney) May 30, 2017
Following the backlash, Griffin, who has been the longtime co-host of CNN's annual New Years Eve coverage, was fired from the network Wednesday.
CNN has terminated our agreement with Kathy Griffin to appear on our New Year's Eve program.

— CNN Communications (@CNNPR) May 31, 2017
Anderson Cooper, Griffin's friend and NYE co-host for the past decade, condemned the photo on Wednesday.
For the record, I am appalled by the photo shoot Kathy Griffin took part in. It is clearly disgusting and completely inappropriate.

— Anderson Cooper (@andersoncooper) May 31, 2017
There's no word yet as to whether or not this will affect her other partnerships, or upcoming comedy tour.