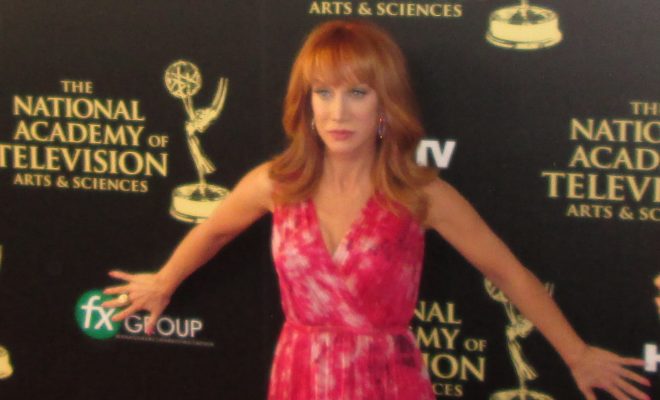 Image courtesy of Greg Hernandez; license: (CC BY 2.0)
Entertainment
Kathy Griffin Says the Trump Family is Trying to Ruin Her Life
By
|
Comedian Kathy Griffin faced swift backlash after the photo in which she posed with a fake severed head that looked like President Trump. And since, she has continued to receive threats. In a press conference on Friday, she repeated her apology, but said that it is outrageous and unprecedented that the President of the United States is personally trying to "ruin a comedian."
Standing next to her lawyer, Lisa Bloom, she said, "I don't think I will have a career after this. He broke me." She said that people fell into some kind of mob mentality and that death threats started rolling in. Her video apology doesn't seem to have had much effect on public scrutiny, and she was also reportedly contacted by the Secret Service, which is now investigating her.
After the controversy, Griffin has lost several jobs, including five stand-up gigs and her annual job as co-host of CNN's New Year's Eve program. She has hosted that show for 10 years. Griffin said the Trump family is bullying her by exercising its influence on private companies as well as the public sector, calling for everyone to fire her.
Kathy Griffin on fallout over photo: "Regarding the image that I participated in, that apology absolutely stands. I feel horrible." pic.twitter.com/ffqhfnijKf

— ABC News (@ABC) June 2, 2017
"He's the president of the United States," Bloom said. "This is outrageous and unprecedented." She added: "For the first time in history that we are aware of, the President of the United States and his family has personally attempted to ruin a comedian. The message was clear: Criticize the president, lose your job."
Bloom also pointed out what many people on social media already have said: President Obama had to withstand a number of threats during his time in office. Musician Ted Nugent made threats against him and Hillary Clinton, but was recently invited to the White House.
"Obama, he's a piece of s—. I told him to suck on my machine gun. Hey Hillary, you might want to ride one of these into the sunset, you worthless b—-," Nugent said on a stage appearance in 2007, while holding two machine guns. In April, he had dinner with Trump in the White House.
It's reprehensible what Kathy Griffin did, & the left has denounced it.
Ted Nugent did it to Obama, & your dad invited him to the WH. https://t.co/jhOGmr4egG

— Laurie Crosswell 🌞 (@lauriecrosswell) May 30, 2017
A lot of people started calling out the Trumps for having a double standard, and when Press Secretary Sean Spicer was asked about the controversy during Wednesday's press briefing, he just said he didn't know what Trump's response was at the time.
After the bipartisan outrage at the photo shoot, at least two celebrities have come to Kathy Griffin's defense. "I still love Kathy Griffin. She went past the line, she'll pay for it in the way she pays for it, and we'll go out and we'll laugh with her again," said Jamie Foxx to Entertainment Weekly. And Jim Carrey agreed–he said when a president does the type of "crazy things" that Trump is doing, comedians are the "last voice of truth." "I think it is the job of a comedian to cross the line at all times — because that line is not real," he said.