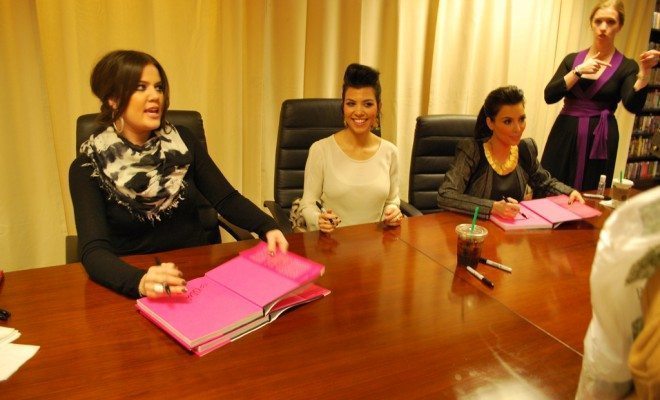 Image courtesy of [Faye Harris via Flickr]
Entertainment
Kardashians Sued for Not Promoting Makeup Line
By
|
In an ironic development, the Kardashian sisters are now being accused of not enough self-promotion: Kourtney, Khloe, and Kim are being sued for over $180 million due to lack of marketing and promotion efforts for their "Kardashian Beauty" makeup line. In court filings obtained by Radar Online, the Plaintiff, Hillair Capital Management, LLC, alleges:
…in July 2014, whereby Hillair agreed to put up millions of dollars to help the Kardashians salvage their struggling 'Kardashian Beauty' makeup line after former distributor, Boldface, went belly up amidst legal and financial troubles. The essence of the parties' bargain was that Hillair would put up millions of dollars to fund the continued distribution of the Kardashians' line, and the Kardashians would continue to be the faces of the line and actively promote, market and support the line, while making certain concessions under their existing deal with Boldface.
The problem, Hillair alleges, is that the sisters did not uphold their end of the bargain: "the Kardashians wanted a better, more lucrative deal than they had struck with Hillair after the money to continue the line was already committed, and they used their ability to withhold their support of the line to attempt to force Hillair into a buyout of its interest."
In return, Hillair is now demanding the return of the over $10 million it invested into the company, as well as up to $180 million in loss of value of equity interest.
This makeup line has been the cause of multiple legal headaches for the Kardashian sisters. The line was launched in 2012 under the name Khroma Beauty, but was accused of trademark infringement by two different companies: the Los Angeles-based Chroma Makeup, and a separate Florida-based company called Kroma Makeup. While the former was denied by courts, the second (Kroma with a K) was successful in forcing a temporary injunction to stop sales of the Kardashian's brand for the duration of the trial. As a result, the company was finally forced to change its name to "Kardashian Beauty" in 2013.
The troubles only continued from there: the distributor of Kardashian Beauty, Boldface Licensing and Branding, began to experience financial troubles, which is where Hillair stepped in and agreed to invest. Now, the management company is alleging that its deal specified that the Kardashians would continue the promotions they had been working on under their previous deal with Boldface, which they allegedly did not do.
Another day, another Kardashian lawsuit we're "keeping up with."