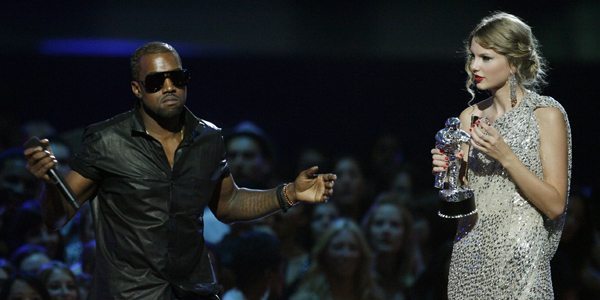 Photo Courtesy of [Photo Giddy via Flickr]
Entertainment
Is Kanye West Really Running For President?
By
|
Last night's MTV Video Music Awards went much like you'd expect. Miley attempted to shock viewers with nipple skimming outfits and weed references, none of the jokes were funny, Taylor Swift won most of the awards, and Kanye managed to steal the show–but this time without stealing a mic from Swift.
During a bizarre 11-minute-long acceptance speech for the Michael Jackson Video Vanguard Award, Yeezy talked about everything from how fatherhood changed him to fighting for artists…and a possible presidential run in 2020?
After rambling about "dying for the art" and "millennials' new mentality" West said,
I don't know what I finna lose after this. It don't matter, though; It's not about me. It's about ideas. New ideas. People with ideas. People who believe in truth.

And yes, as you probably could've guessed by this moment, I have decided in 2020 to run for president.

**[Literally Drops Mic]**
Kanye hasn't made it clear whether or not he was joking about the potential run, but he did make the announcement after admitting he "rolled up a little something" to knock the edge off before the show.
Watch Kanye's full speech below:
Regardless of how serious he was, the Kardashian sisters were quick to jump on the "Kanye for President" bandwagon, posting their support on social media.
Mr West!!! 🇺🇸🇺🇸🇺🇸 pic.twitter.com/NuLlx9MnYT — Khloé (@khloekardashian) August 31, 2015
But Kourtney's tweet was hands down the best.
pic.twitter.com/OdPQ9JlfYD — Kourtney Kardashian (@kourtneykardash) August 31, 2015
For those of you wondering why 2020, it may be because he and his wife have already endorsed their candidate for 2016.
I got my selfie!!! I really loved hearing her speak & hearing her goals for our country! #HillaryForPresident pic.twitter.com/zGpdcGSZBD — Kim Kardashian West (@KimKardashian) August 7, 2015
But if for some reason he did choose to run this year, I bet Deez Nuts would happily sign on to be his running mate!