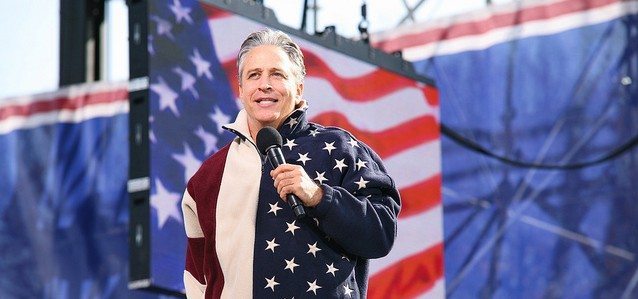 Image Courtesy of [Cliff via Flickr]
Entertainment
Jon Stewart is Stepping Down: Who Will Take Over The Daily Show?
By
|
Jon Stewart chose to break my heart just a few days shy of Valentine's Day when he announced Tuesday that he would be leaving his post on "The Daily Show" after over 16 years as its host. First Colbert leaves and now Stewart–come on Comedy Central, this is too much!
Stewart let it slip that he would be retiring during Tuesday's show taping, and the network was quick to confirm, writing a touching farewell that can be read below. The message hinted that this isn't the end for "The Daily Show."
JUST IN: @ComedyCentral says Daily Show host #JonStewart to step down at end of year pic.twitter.com/caKNLrzCg7

— WTTE FOX 28 (@fox28columbus) February 10, 2015
Before I put a countdown in my iPhone to track Stewart's remaining shows as they tick down down to zero, let's take a minute to reflect on what made us fall in love with Stewart in the first place. Maybe it was his perfectly coiffed salt and pepper locks or his piercing blue eyes. But in all seriousness it was probably his sharp edged political commentary laced with hilarity that had us hooked. Stewart said what we were all thinking, and we thanked him for it.
He was also among the first to make that type of satirical commentary big before others like Stephen Colbert, Larry Wilmore, and John Oliver hopped on the funny news wagon. Many millennials even regard Stewart's show as real news, with more Americans — 8 percent — saying they trust the fake news program than MSNBC. In January, fellow Law Streeter Noel Diem wrote a piece on where Americans are getting their news and found that:
His [Stewart] show averages 2.3 million viewers per episode, putting him far ahead of others news outlets in not only viewers, but also in that 25-54 range. In fact, The Daily Show is consistently ranked the top late-night news show among the key demographic.
So, who will replace Stewart?
Since the world has already begun speculating on potential Daily Show replacements, I might as well tell you who my top two front runners are–both of them having the last name Williams was not a requirement but just a weird coincidence.
Jessica Williams –She's clearly mine and many others' number one choice! Williams has been a correspondent on "The Daily Show" since 2012, and applies her youthful, sassy, and sharp-witted comedy to topics like feminism, racial equality, and youth culture. When I read in Wired's January 2015 issue that she wants to create a smart gossip site with cultural celebrity critiques, I couldn't help but think that this girl is exactly what comedy needs. The type of site she's envisioning could be exactly the kind of fresh new vision "The Daily Show" will require after Stewart's departure. Bonus point: she also already looks pretty good in his chair based on the pic below.
RT if you think Jessica Williams should be given Jon Stewart's job after he leaves! #TheDailyShowWithJessicaWilliams pic.twitter.com/Gqdx2Z4h34

— Bhavik Lathia (@bhaviklathia) February 11, 2015
Brian Williams–Brian might be currently shopping for a "fake news" gig, especially after his reporting ethics were called into question after repeated misrepresentation of events surrounding his coverage of the Iraq war. The controversy resulted in him being suspended from the "Nightly News'" for six months without pay. I don't know who I'm sadder to see leaving the air: Williams or Stewart. Who knows though, Stewart's departure could all be one big Illuminati plot to get him back in the anchorman chair. At least Stewart's still on Williams' side:
Most important picture today: #JonStewart on Brian #Williams. pic.twitter.com/aURDuavPUY

— King سميرة (@SamiraaSR) February 11, 2015
Even though Jon Stewart adamantly swore during his 16 year career at the helm of "The Daily Show" that what he did wasn't journalism, his absence will still leave a void in the realm of news. Whoever Comedy Central ends up picking has big shoes to fill.