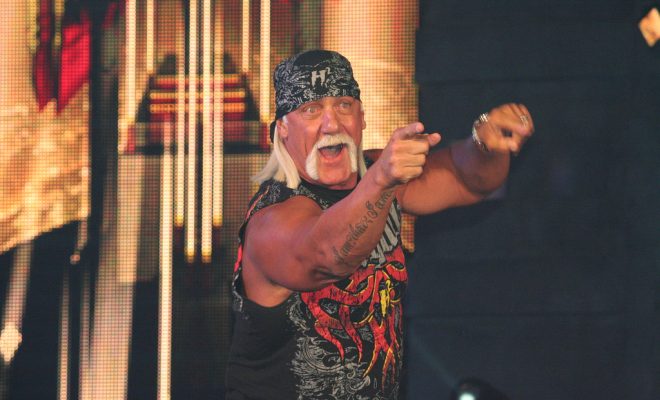 Image Courtesy of Mike Kalasnik; License: (CC BY-SA 2.0)
Entertainment
Gawker to Pay Hulk Hogan $31 Million in Settlement
By
|
Hulk Hogan will be receiving at least $31 million to settle his privacy case against Gawker, after the media company published his sex tape, according to court documents.
This feud between Gawker, its founder, Nick Denton, and Terry Bollea–Hogan's real name–has been going on since the $100 million defamation case was filed in 2012.
The privacy in question pertained to a sex tape of Hogan and Heather Cole, who was the wife of Hogan's best friend Bubba "the Love Sponge" Clem at the time, that Gawker featured on its website. While it did not play the entire video, it played over a minute and a half chunk of it, while other news sites only showed stills and discussed the video.
Gawker named the story, in its usual gossipy way, "Even for a Minute, Watching Hulk Hogan Have Sex in a Canopy Bed is Not Safe For Work but Watch it Anyway." The story not only included part of the video, but offered a graphic play-by-play of the sex tape for those who didn't want to watch. Hogan claimed that he was secretly filmed.
The subsequent case forced Gawker to file for bankruptcy after a jury awarded Hogan $140 million in March. Peter Thiel, Silicon Valley billionaire, was secretly funding Hogan's case against Gawker.
Thiel explained in a New York Times article in August why he funded Hogan's case:
In 2007, I was outed by the online gossip blog Gawker. It wasn't so many years ago, but it was a different time: Gay men had to navigate a world that wasn't always welcoming, and often faced difficult choices about how to live safely and with dignity. In my case, Gawker decided to make those choices for me. I had begun coming out to people I knew, and I planned to continue on my own terms. Instead, Gawker violated my privacy and cashed in on it.
Denton broke the news on his blog, with a piece titled "A hard peace," where he wrote, "After four years of litigation funded by a billionaire with a grudge going back even further, a settlement has been reached. The saga is over."
He then goes on to discuss how "three true stories" are going to be taken down.
Denton said he was confident that the appeals would overturn the original judgement.
"I will continue to work on topic forums, still convinced that the internet can bring people together in shared understanding rather than just triggering conflict between them," Denton wrote. "Hulk Hogan's retirement will be comfortable."
In August, Univision acquired Gawker Media for $135 million. While Gawker itself has since been shut down, websites like Gizmodo, Jalopnik, Jezebel, Deadspin, Lifehacker, and Kotaku still publish content.