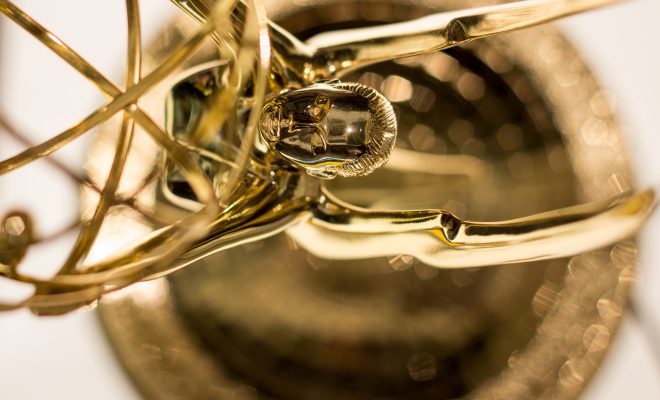 "Emmy Award' Courtesy of [Hans Splinter via Flickr]
Entertainment
Emmy Awards Provide A Platform For Political Agendas
By
|
Hollywood's elite gathered last night in Los Angeles, California to celebrate the 68th Primetime Emmy Awards, and the stars that hit the stage made it very clear that politics were on their minds.
The ceremony, hosted by Jimmy Kimmel in the Microsoft Theater, celebrated shows such as HBO's political satire "Veep" and epic fantasy drama "Game of Thrones"–winning two and three awards respectively. Ryan Murphy's crime anthology "The People v. O.J. Simpson: American Crime Story" scored big and won five awards, the most awards of the night.
Kimmel was quick to set the tone of the show during his opening number–a quick-witted video that showcased television's favorite faces as the late-night host hitchhiked his way to the award ceremony. Kimmel eventually found himself in the presence of "Veep" President Selina Meyer's motorcade, driven by former GOP presidential candidate Jeb Bush.
The comedian stressed the importance of his arrival due to his hosting gig and nomination. Bush displayed excellent comedic timing and quipped, "If you run a positive campaign, the voters ultimately will make the right choice," before telling a hopeful Kimmel that he was joking. The jab directed at Republican nominee Donald Trump, referenced his hostile tone and critical analysis of Bush's energy.
Watch Kimmel's Road to the Emmys below
Kimmel's opening monologue proved to be successful. He garnered laughs from the crowd with jokes about diversity and the making of Donald Trump.
"If it weren't for television, would Donald Trump be running for president? No," Kimmel said. "He would be at home right now quietly rubbing up against his wife, Malaria, while she pretends to be asleep."
Kimmel proclaimed the person who should be blamed for the Trump phenomenon was sitting in the audience–hidden amongst the sea of nominees.
"That's right. That guy. Mark Burnett, the man who brought us 'Celebrity Apprentice'," Kimmel said. "Thanks to Mark Burnett, we don't have to watch reality shows anymore, because we're living in one. Thank you, Mark."
The nominees who hit the stage only added to the fire.
"Veep" star Julia Louis-Dreyfus joked about life imitating art during her acceptance speech. On the topic of the current election she said:
I'd like to take this opportunity to personally apologize for the current political climate. I think "Veep" has torn down the wall between comedy and politics. Our show started out as political satire, but now feels more like a sobering documentary. So I certainly do promise to rebuild that wall and make Mexico pay for it.
Best comedy series writing winner Aziz Ansari also touched on politics during his acceptance speech, by declaring onstage "after careful consideration, I'm going with Trump!" He then went on to demand that they remove all Muslim and Hispanic nominees from the Emmy ceremony which he said would make things so much easier–"like the Oscars."
"Transparent" star Jill Soloway took home Best Director of a Comedy Series. Soloway's speech focused on the importance of LGBTQ+ issues and encouraged the toppling of the patriarchy.
Backstage she made bold statements about the current election cycle and drew upon the connection between Trump and Hitler. "It's so incredibly timely, the notion of otherizing people to gain political power," Soloway said. "Jews were otherized in Nazi Germany to gain political power, and right now Donald Trump is doing the same thing." As an example, she said, "He calls women pigs if they don't look like beauty-pageant contestants. He blames Muslims and Mexicans for our problems. He makes fun of disabled people. This is otherizing with a capital O. It has been used in our history before to start and win wars. "
Reactions from the public ranged. Users on Twitter were quick to praise the Emmys for celebrating diversity, as well as criticize the award show for the one-sided political storyline.
Last night's wonderfully inclusive, diverse #Emmys was a rebuke of everything Trump stands for: https://t.co/sA03obd0VC

— Marlow Stern (@MarlowNYC) September 19, 2016
At #Emmys, @jillsoloway called Trump "an inheritor to Hitler." No comment on HRC calling an aide, "f—g Jew bastard," calling Jews greedy?

— Larry Elder (@larryelder) September 19, 2016
As we inch closer and closer to the upcoming election, we should expect to see more political rhetoric filtering into our entertainment.